While they may be portraying an very well known on-screen couple in the form of John and Mary Watson on BBC's Sherlock, the real life romance is no more, as Martin Freeman and Amanda Abbington have split up after sixteen years together.
The couple have two children and have been in multiple films and TV shows together, including the film Men Only, where the two originally met in 2000, and famously Sherlock, where their recently married characters will now have a daughter named Rosamund Mary Watson. While there may be a baby in the mix, don't expect the series to suddenly become child-friendly because things are about to change -- big time. Benedict Cumberbatch has described the new series to The Guardian as the darkest one yet, a change that creator Stephen Moffat describes as a reflection on the political events impacting the globe and what it means to be a hero in the face of that darkness: "Being a hero isn't being bigger, richer, more powerful than somebody else. It's being wiser and kinder."
Yet, in spite of the changing tone of the series, the couple insists there is nothing to worry about behind the scenes. Though no major details have been spilled about the recent split up, Martin Freeman has assured the Financial Times that there is no bad blood: "I'm not with Amanda any more. It's very, very amicable -- I'll always love Amanda." The pair were recently spotted at an event promoting the New Year's Day episode of Sherlock with the rest of the cast. With millions of viewers around the world, it's extremely unlikely that any behind the scenes drama could possibly slow down the phenomenon that is Sherlock.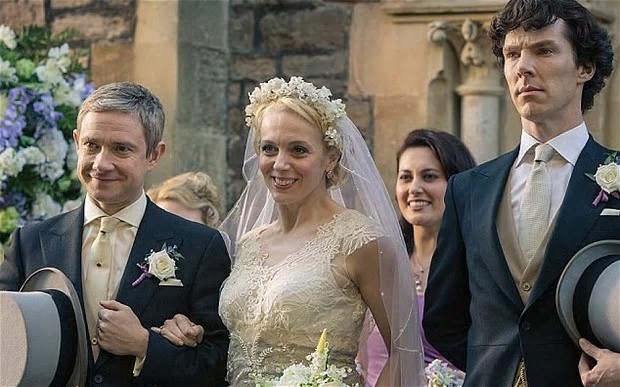 thetelegraph.co.uk
The newest episode of Sherlock is called "The Six Thatchers," and the series will return on January 1. Will you be tuning in?