Marvel fans have a reason to rejoice. Though the company has already given us greatness with reboots, such as the Avengers, Agent Carter, X-Men, and Jessica Jones, there is so much more to be excited about. 
Now, Marvel is rebooting the Black Panther -- not just in movie form but in comic book form. Marvel Comics has released the first preview images for the Black Panther reboot.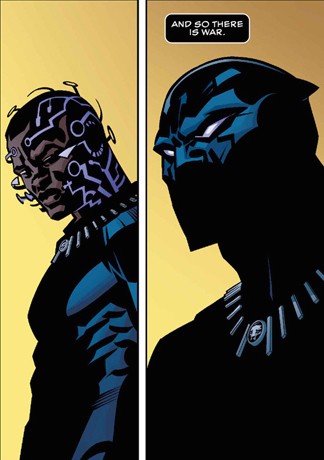 Marvel
New York Times bestselling author Ta-Nehisi Coates will pen the new comic book series, and the 11-issue saga will come out this April, along with the new Captain America movie, Civil War.
"In my work for The Atlantic I have, for some time, been asking a particular question: Can society part with and triumph over, the very plunder that made it possible?" Coates posed in The Atlantic. "In Black Panther there is a simpler question: Can a good man be a king, and would an advanced society tolerate a monarch?"
This effort will showcase the transformation of a journalist to a comic-book writer. 
"It's a very backwards, in my mind process. it's not the process of writing journalism," Coates said. "i've had to totally rethink certain things."
Black Panther will also make be making its way into our movie theaters. Following his first appearance in Captain America: Civil War, the solo hero film is expected to come out in 2018, starring Chadwick Boseman as T'Challa/Black Panther.
The Black Panther hasn't had a solo comic series since 2011. This will be the first time in five years that the series will be rebooted, and, surely, it will capture the attention of many Marvel fans and continue to bring in viewers and fans for the Marvel franchises.
With the success of Jessica Jones, as well as how much money The Avengers brings in every time a new film comes out, rebooting this franchise will be huge for Marvel.
The comic character first appeared in 1966, and this year marks the 50th anniversary of the Black Panther's existence. Be sure to check out the preview pages below in all their full-sized glory, and let us know what you think about them in the comments!
[gallery ids="129539,129537,129538"]