Lara Meier
Staff Writer
The Colbert Report
. There have been rumours going round that
Captain America #25 could be starring Sam Wilson in October 2014
; however, Marvel decided well on when to announce the news publicly; on the heels of this groundbreaking news: "
Marvel Entertainment would be replacing the comic book incarnation of Thor with a new, female version."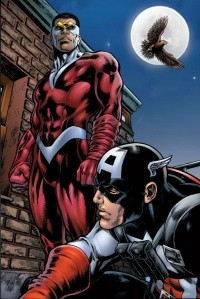 Courtesy of Marvel
Wilson was seen in
Captain America #117
 for the first time in 1969. He made various short appearances after that (most recently
Avengers, Mighty Avengers
). His debut on the big screen was earlier this year in
Captain America: The Winter Soldier
. Rumour has it similar adaptions of
Iron Man
are in talks for this fall. We are excited for what Marvel's future holds! Are you, too? Let us know in the comments!
Keep Up With PopWrapped On The Web!