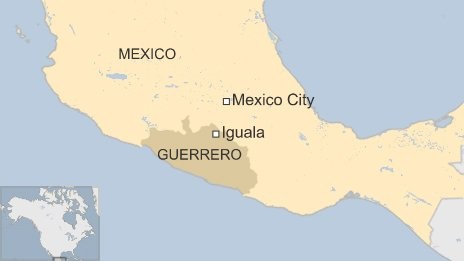 Courtesy of: BBC News
An anonymous tip has led authorities to a grisly discovery in Iguala, Mexico. A mass grave containing at least fifteen bodies was unearthed on the outskirts of the town on October 4. Though none of the victims have been identified yet, the remains are suspected to belong to at least some of forty-three student protesters who went missing in the city on Sept 27.
The students were last seen being coerced into police vans after a deadly assault by police had killed six of their group. The students, all trainee teachers, had traveled to the city to participate in a protest to support teachers' rights. Still fearing for their lives, those who were able to escape went into hiding, opting to wait several days before contacting relatives.
Twenty-two police officers have been arrested in connection with the shooting, and arrest warrants have also been issued for the mayor of Iguala and his security chief. State prosecutors believe Iguala officials and police could have connections with powerful criminal gangs in the area. While officials work to determine the number of bodies and their identities, families of the missing are still hopeful that some survivors remain.
The Mexican government has offered a $75,000 reward for information that could help find any of the missing students.
Keep Up With PopWrapped On The Web!
Twitter  SoundCloud Facebook Instagram Tumblr Pinterest YouTube