This math problem, meant for kids, is driving people nuts. By now, most of us have seen "The Fruit Problem" on Facebook and/or Twitter. Have you been stumped by it? If so, you're not alone!
Although it appears easy enough at first glance, it seems the masses are getting it wrong over and over again.  The majority of those that responded to the image say the answer is 16, but take  a closer look.  The actual answer is 14.  How?  Three apples is equal to 30, ergo each apple is worth ten.  The devil is in the coconuts and bananas.  An apple plus two bananas is equal to 18, so each banana bunch is worth four.  Banana bunch minus two coconut halves is two so each coconut half is worth one.  The last row is the part that is tripping people up.  Upon close inspection the banana bunch reveals itself to have only three bananas, not four, and there is only one half of a coconut.  Ten plus one plus three gives us a total of fourteen, not the popular 16 that so many have thought.
So why all of the confusion?  It simply boils down to people not paying close attention to what is actually right in front of them. As they say, the devil is in the details.
If  "The Fruit Problem" left you yawning there are plenty of brain breaking problems floating around on the web.  Most of them rely heavily on the order of operations.  There is one gem however that is a little more sinister: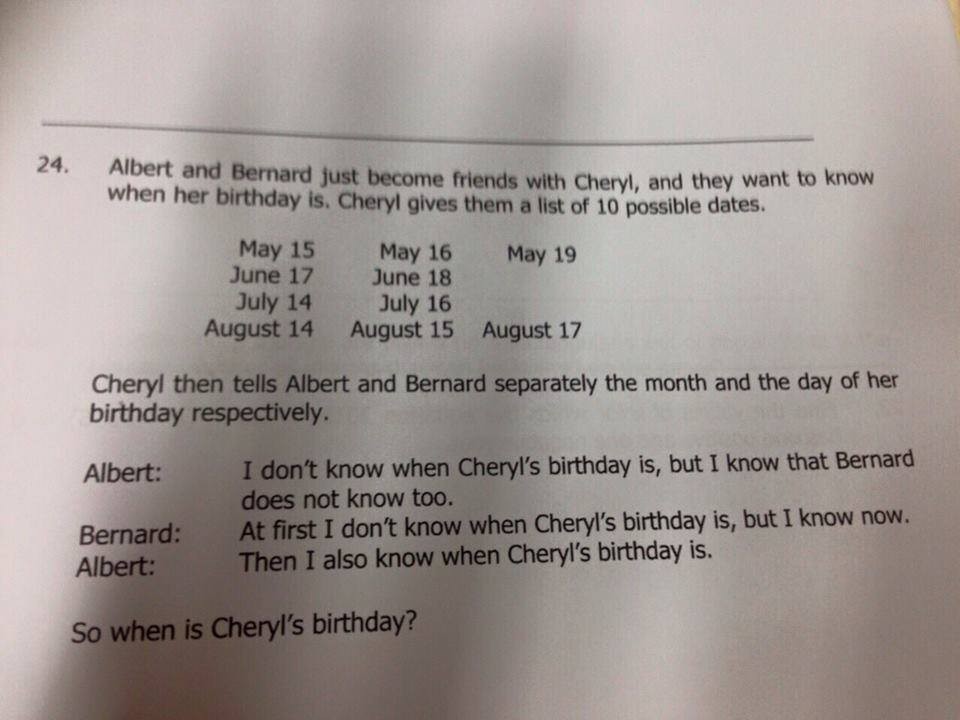 facebook.com
This one was created for the uber intelligent 14 year-old participants of the Singapore and Asian Schools Math Olympiads.  The problem was leaked and then reported on by a television presenter in Singapore.  The answer, provided by Study Room,  is below if you need a little nudge:
First we need to figure out if Albert knows the month or the day. If he knows the day, then there is no chance that Bernard knows the birthday, so it must be that Albert knows the month.
From the first statement, we know that Albert is sure that Bernard doesn't know the birthday, so May and June should be ruled out (the day 19 only appears in May and the day 18 only appears in June). In other words, if Albert had May or June, then he cannot be sure that Bernard doesn't know, since Bernard could have had 18 or 19.
Following that statement, Bernard knows that May and June are ruled out.
Then, Bernard is able to know which month it is. So it must be either July 16, August 15 and August 17 (not 14th as then he can't know).
Since Albert subsequently can also be sure of the date, he must know it's July. If it's August, he can't be sure as there is August 15 and 17.
So the answer is July 16.
Did you know the answer to these math questions? Let us know!