Tayla Whitehead
Staff Writer
boyfriend of Glee star Becca Tobin
was found dead in his hotel room while on a business trip in Philadelphia. Matt Bendik, who is famous in his own right and not just for dating the
Glee
actress, owned many night clubs in and around Los Angeles. The unexpected death of Bendik has shocked and saddened family and friends and the mystery that surrounds his death is even more upsetting. Bendik was joined by Tobin on his business trip in Philly and they spent their time off with some friends for a night out where everything was said to be "normal" and no one noticed anything out of the ordinary. Wednesday night was the last time Bendik and Tobin were seen together and Bendik's body was found the afternoon after by hotel's cleaning staff. Tobin's whereabouts during that time are unknown and any other details are being kept underwraps.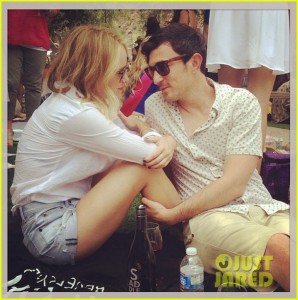 JustJared
The story is still developing with no other information being offered as yet. The tragic death is strangely similar and a sad reminder of the passing of Cory Monteith's that happened almost a year ago. Thoughts and prayers go out to all Matt Bendik's loved ones.
Keep Up With PopWrapped On The Web!