Oh Neville.....
YOU'RE KILLING US.
'Harry Potter's Neville Longbottom himself, Matthew Lewis,  has gotten us all hot & bothered this morning with his new photo spread in 'Attitude' magazine.
The 25 year old actor shows off his almost naked body, while rocking a sweater....
And his underwear.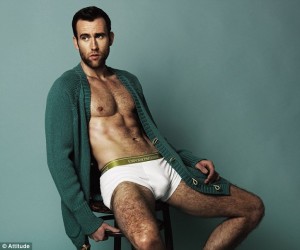 Attitude
Matthew discussed his transformation over the years:
Whenever I go back to Leeds or see people I went to school with they always talk about my veneers. I'm like, 'I haven't got veneers, these are my actual teeth!' If I can't f*cking convince people I went to school with how am I going to convince anyone else! I had these braces – which were fucking painful by the way – for six months, and then it was kind of a weird thing, I was excited I guess to go on the red carpet on the release of the last film and be me, and not to have to have the fat suit under my t-shirt. It was quite an exciting buzz. I was 21, I was like 'yeah, this'll be cool!' It was never meant to be a 'hey everyone, look at me!' but it was nice to be able to go and be myself. And then obviously a lot of attention focused on it, which I didn't expect at all. I've never considered myself to be good-looking at all. Just average."
Now, if you can pry your eyes away from the photos above, check out this HILARIOUS Twitter exchange between Matthew and 'Harry Potter' author JK Rowling. 
Rowling discovered Matthew's photos and tweeted him directly:
.@Mattdavelewis Not as bad as watching Dan in Equus, but close. Warn me next time, for God's sake. https://t.co/r8EUd1GKqT

— J.K. Rowling (@jk_rowling) May 21, 2015
Of course, Rowling was referring to Daniel Radcliffe's nude baring role on stage in 'Equus'.
Matthew quickly responded and JK answered back.
.@Mattdavelewis I will always support you whatever you want to do, Matthew. Now go put some clothes on.

— J.K. Rowling (@jk_rowling) May 21, 2015
HA!!
You guys all read the tweets right?
Or are you still staring?