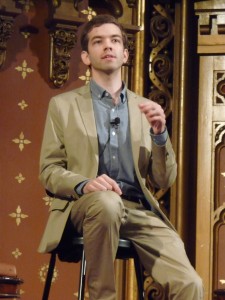 Courtesy of Canyon Walker Connections
Matthew Vines, college student and researcher extraordinaire, took on the ever provocative and sometimes volatile subject of the relation between the Bible and homosexuality. He spent two years studying the relation and then brought his findings to one of the least likely places you'd think to see it: a church. While there are plenty of religions and churches out there that are (and sometimes finally) pro-LGBT, there remain some that are so solid in their stance that it's hard to think a man researching what they believe to be an extreme sin would be allowed to present in their house of worship. Vines goes over what is in the Bible; there are 6 passages that refer to same-sex relations and every single one of them is in a negative light. They are evenly split in the Old and New Testaments but only have are blatantly clear. The kicker though, he says, is that according to the 'traditional interpretation', being homosexual isn't bad but acting upon it is. Double edged sword, right? Raised in a Christian home and still retaining those values that his wonderful parents instilled in him, Vines explains to his audience that he is gay and to, just for a moment, take a walk in his shoes. He explains his problem: he is excluded from the possibility of love because he is a gay man and the Bible strictly says that's a no-no. His dedication to scripture and living his life under God's word has even gone as far as making Vines feel like he has to restrain himself from relationships for fear of falling in love and being unable to keep in line with scripture. He goes on to cite scripture that points out, having a suitable partner in life is an important thing. But as a gay man, he can't do that if he wants to live by the Bible's teachings. In this, he points out to his audience, is the colossal contradiction within the Bible's teachings. Taking the 6 passages he's cited earlier, he picks each one apart to show the flaws and weaknesses in the arguments both for and against homosexuality acceptance. It is a fascinating subject, and one that Vines tackles so effortlessly. Hopefully his beautiful speech can land in the right ears and maybe change a few minds, making the world a more loving place. We have the video posted below, although it is about an hour long. If you'd like to read the transcript of his speech,
you can do so here
. http://youtu.be/ezQjNJUSraY
Keep Up With PopWrapped On The Web!