Max Landis isn't your typical screenwriter, and his movies aren't your typical, boring romantic comedies. They aren't even those compelling, intense dramas where you basically have to cry at the end. Nope, they are much more than that.
Consider a screenplay that has a little bit of everything: romance, comedy, action, drama, and intensity. Now add an amazing storyline, one that takes years of fastidious planning, and you'll get something like Max Landis' screenplays.
This young man, responsible for movies like Chronicle, American Ultra, Victor Frankenstein and most recently, Me, Him and Her, is one of the brightest minds to create in Hollywood.
In 2012, Forbes included Landis in their 30 under 30 Entertainers to Watch. With Chronicle he takes an awkward teen (Dane DeHaan), a cell-phone camera, and a substance to tell a tale of how superpowers can corrupt one's self. In American Ultra he took two stoners and turned them into kick-ass CIA operatives who can kill people with spoons. In Mr. Right he takes a girl (Anna Kendrick) and gives her a huge conflict when she finds out that her sweet boyfriend (Sam Rockwell) is a hired assassin. Sure, a bounty hunter love story, right? Nope, because he kills the people who hire him, instead of the assigned targets, leading them on a journey as they run from the cartels that hire him. In Me, Him and Her Landis takes a coming-of-age story about three twenty-somethings and makes the story take a turn to discuss their sexual identities.
Max Landis' mind is full of unique and original ideas, and the way he writes his scripts is pure genius. Landis takes characters and puts them in completely unexpected situations, and he makes it work by adding aspects and elements that draw the viewer in.
Let's use American Ultra (the most recent movie I saw after scouring all the films available with my expiring Amazon Prime trial) as an example. He takes an idiotic stoner named Mike (Jesse Eisenberg) and puts him in a loving relationship with Phoebe (Kristen Stewart). They live laid-back, quiet lives in Liman, West Virginia, but it turns out that he was actually a part of the CIA's secretive Ultra program. When the CIA, led by a young hot-shot temporary supervisor (Topher Grace), sets out to "clear the portfolio" and kill Mike, he is activated by Agent Lasseter (Connie Britton), who hopes this will be the one thing that can save his life.
The movie takes a lot of wild turns, with seemingly countless different plot characteristics. Combining Mike's panic attacks, his relationship with Phoebe, and his unique ability to kill anyone who comes at him with any resource (his weapons of choice include a spoon, a frying pan and fireworks), and you get this incredible romantic action comedy movie. It's way out there, but it's a great combination.  Most importantly, it works.
Just seeing how the movie translated to the script was unbelievable. Landis can layout scenes on paper and make you feel like you're legitimately in the film. Not to mention, his amazing ability to transition from a calming, romantic moment to a car explosion is not able to be replicated by any of his peers.
Despite the amazing storyline, big-named stars, originality, and decent reviews, American Ultra tanked at the box office. All of the movies that beat it out were reboots or sequels (Mission Impossible, Man From U.N.C.L.E., etc.).
So he stood up, and he decided he wasn't afraid to speak the truth about the movie industry in L.A. today.
He had the courage, as a Hollywood screenwriter, to stand up and say that the "blockbusters" these days are all reboots, sequels or adaptations, and that originality is unfortunately losing its traction, unless your name is Quentin Tarantino.
https://twitter.com/Uptomyknees/status/635141178472599552?ref_src=twsrc%5Etfw
And he's right; all people want to see are the sequels, movies based on book series, and reboots. Because those are the films that "sell" at the Box Office, raking in millions of dollars in the process, it leaves less room for original screenplays to succeed.
Luckily, at only 30 Max Landis has a long and (potentially) successful career ahead of him. He's a creative, fresh mind who brings back the idea of the "Golden Age" of film. Sure, he writes adaptations, but he stands by his work and brings a unique twist to all of his original screenplays.
As a young writer who has watched and read Landis' screenplays in action, I can honestly say that he is one of the most creative minds in Hollywood. Mr. Landis, keep on being you, because honestly, you're doing just fine.
And please, please make more movies. And if you could write a sequel...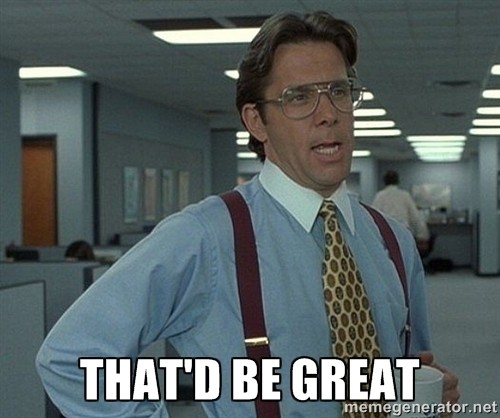 cdn.meme.am