If you're a fan of historical dramas with a Renaissance backdrop, get ready to binge Medici: Masters of Florence on Netflix. The eight-episode drama aired in Italy over the fall and is now available to Netflix viewers in the US, UK, Canada, Ireland and India.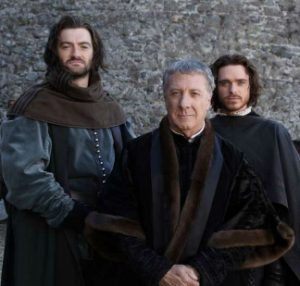 Marida Caterini
Medici: Masters of Florence focuses on the Medici dynasty. What do you need to know about the Medicis?
The family founded one of the largest banks in Europe during the 15th Century. The Medici family was powerful and produced three Popes and two regent Queens. They used their vast influence on Florence government, making it possible for the arts to flourish. Their support led to the birth of the Italian Renaissance in Florence.
The series takes place in 15th Century Florence. The family patriarch, Giovanni de' Medici (Dustin Hoffman) founded Banco Medici, which he turns over to his sons Cosimo (Richard Madden) and Lorenzo (Stuart Martin) upon his death.
Cosimo becomes the head of the family and struggles with the power that comes with it. Even though the series opens with Giovanni's death, it continually flashes back twenty years earlier as Giovanni uses the family business to gain power and influence his sons.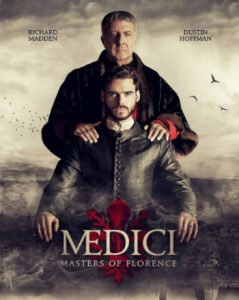 Medici: Masters Of Florence
The series was co-created by Frank Spotnitz (The X-Files) and Nicholas Meyer (Star Trek II: The Wrath of Khan). Sergio Mimica-Gezzan (The Pillars of the Earth) directed the series which was produced by Big Light Productions, Lux Vide Wild Bunch TV and RAI Fiction.
"We begin the show with a 'what if' because we don't know how Giovanni de' Medici died. One of the questions that haunts Cosimo is whether his father was murdered," Spotnitz shared in an interview at Roma Fest. "This question really drives Cosimo to build the empire that his family's bank becomes."
Sounds intriguing, right? That's kinda the point. Even though the series will drift from historical facts, Spotnitz promises "love, murder, intrigue, politics and conspiracy" in Medici: Masters of Florence, and we hope it delivers!
Watch the trailer below, and let us know if you'll be watching!
Medici: Masters of Florence Trailer