Marvel's Cloak and Dagger is the upcoming series from Marvel Television. It was just announced that Olivia Holt will play Dagger and Aubrey Joseph will play Cloak. Olivia Holt is known for starring in Disney Channel series I Didn't Do It and Kickin' It. Aubrey Joseph was recently in HBO's mini series The Night Of and the Liam Neeson-led film Run All Night. Marvel's Cloak and Dagger will air on Freeform.
Showrunner Joe Pokaski said, "when Olivia and Aubrey read for the roles, these characters leapt off the page. We're so excited to see what these talented young actors bring to the Marvel Universe." Jeph Loeb, the Head of Marvel Television, feel that Holt and Joseph "encompass the true essence of the characters and we are excited for the audience to see them in these roles."
Who Are Cloak and Dagger?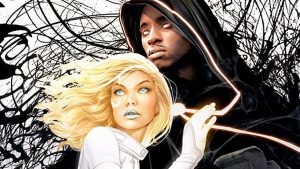 Marvel
Cloak and Dagger are a Marvel superhero duo that first appeared in 1982. The pair came from very different upbringings. Tyrone Johnson a.k.a. Cloak suffered from a stutter that prevented him from saving his friend's life when a police officer believed he had just robbed a store. Tandy Bowen a.k.a. Dagger was once a privileged young girl who felt neglected by her mother. The two met as runaways in New York City. Together, they protect the streets from drug crimes and help fellow runaway children.
Cloak has the ability to create portals to a dark dimension. He can also teleport people with himself through this dark dimension. Dagger has the power to control daggers of light which drain the vitality from those they touch. The pair's powers complement each other nicely as Dagger needs to avoid getting overcharged and Cloak hungers for light. Dagger can alleviate this hunger while releasing some of her energy.
What do you think about these casting choices? Are you excited for Marvel's Cloak and Dagger? Let us know in the comments.