Meet the Vinci Twins Zach and Wyatt. Today they are proudly wearing the coveted 
Ellen DeGeneres Show
 Underwear. Watch their episode which will air on Thursday, May 21st. Set your DVR's now, as the Vinci twins will have you and Ellen seeing double. Let's learn a little more about these all American brothers.
Photo credit Renie Saliba
Zach Vinci shared, The twin bond for us is amazing, growing up we were always best friends. We have the same taste in music, same taste in girls, clothing, food… Etc haha. We always looked out for each other and are always on the same wave length. But when we fought as kids it was vivacious haha, windows were broken, chairs were broken, our fights were like WWE wrestling matches and we would fight over silly things like who gets to wear our favorite t-shirt to school something dumb like that. Other than that we've always looked out for each other and pushed each other!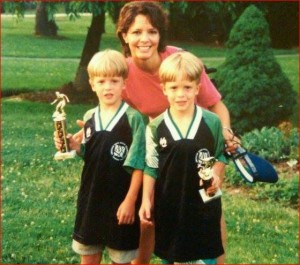 The family did not support us moving to LA initially they thought we were nuts, we both had dreams of playing football out here, me at UCLA and Wyatt and USC. But after I transferred schools to come out to UCLA and my parents came to my first game they were so excited and became very supportive from there on in. We are so excited, about the Ellen show is my sister's favorite show haha her cat is very sick right now and she is a huge animal lover so I know this will cheer her up!  We are so excited! We love her show and can't wait for it to air. I have so many friends and family that watch her show so it's going to be an awesome surprise for all of them!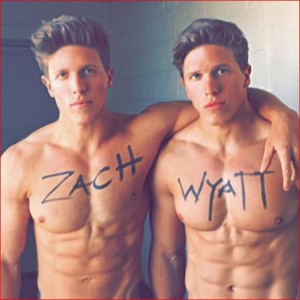 Wyatt Quote – Growing up we did just about everything together, we played sports on the same teams, crushed on the same girls, wore the same clothes, hung out with the same friends, answered each other' phone calls, cause heaps of trouble (multiply that by two) and yes we even finished each other's sentences on occasion. We were quite the tag team growing up but this also came with its downsides!…I particularly hated that he was attracted to the same girls because that meant a fierce competition that neither of us would ever win anyways. Here's why: First, I'll admit that I was always the shy twin so the odds were already stacked against me. My interaction with attractive females typically starts with eye contact and ends with the awkward turn of my head to avoid the public embarrassment of my flushed red cheeks…to make matters worse, as identical twins, we look the same and sound the same, so the attempts of wooing the same girl will always be a lose/lose effort. If she finds one of us attractive that means she almost certainly finds the other twin equally attractive…in conclusion she wants both of us or neither of us. Dealing with rejection always brought us closer together!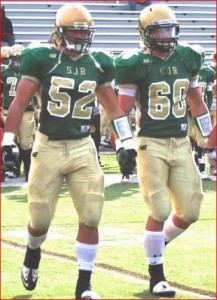 Our bromance always shines brightest in the darkest of times. Lets just say the Vinci twins were never very good at sharing with each other. We would steal clothes and food from each other all the time so I don't think sharing the same girlfriend would be a very good idea! (lol) Zach shared, "Aside from sports we love to travel, anything in the ocean, surfing, fishing, cliff diving, reading, we are comic book nerds, practicing foreign accents on strangers, martial arts, love to dance! We do share many passions and hobbies. Besides growing up with each other, we love animals and grew up with cats, dogs, guinea pigs, birds. We have an older sister, Vanessa that has two cats…she lives in Boston. We just learned that one of her cats is in very poor health and our sister is very sad right now. News of us being on The Ellen Show,  her favorite show really cheered her up!! She's a huge fan and I wish she was here right now! I pray her cat Teddy gets better. Please watch for the Vinci Twins  segment on The NBC hit daytime
Ellen Degeneres
 Show! They are so excited about it. All of their friends and family love the 
Ellen show
 . We know their older sister and her sick cat will be watching. Ellen is a huge pet lover! But could she have been the mom of twins? Stranger things have happened. Their episode will air on May 21st. Set your DVR's now. As the Vinci twins have Ellen seeing double. Let's learn a little more about these all American brothers. Ellen could be a second mom!
Please continue to follow their twin rise to the top in Hollywood. The Twins Official 
Instagram 
, Official 
Facebook
 Page, and a fan-devoted 
Twitter
 account.
Keep Up With PopWrapped On The Web!