If you thought those dresses, gowns, and the suits you've seen at the malls were, well, appeasing to the eye, there is much more to see.
Every year, the Metropolitan Museum of Art holds the Met Gala for its Costume Institute benefit, an event that has the attention of fashion lovers from the entire world. This year's theme is quite out of this, I would say, world, but it's more like out of this country; "China: Through the Looking Glass" is a theme open to different interpretations. As a native of Hong Kong, I'm extremely excited to see the visions these celebrities came up with. There are many possibilities that one could stray away disastrously, but thankfully, there were more of the do's than don'ts.
Speaking of the mishaps, let's start off with that one.
Don'ts:
yahoo.com
Miley Cyrus in Alexander Wang
As much as she tends to stir up things here and there, the singer's heavy metal ensemble simply does not match the theme whatsoever. Neither do the odd cut-outs. This would have been an appropriate dress for a different theme, Miley.
vogue.com
Cara Delevingne in Stella McCartney
Don't get me wrong, I adore her. She's goofy (it's shown all over Instagram), yet a great model at the same time. I'm just not feeling the tattoos; I believe they happen to be cherry blossoms, which are Japanese, not Chinese. I do love her shoes, though! Overall, for me, her outfit isn't that great.
yahoo.com
Kerry Washington in Prada
As much as I love the baby shade of pink, the dress is a walking disaster. The green satin shoes don't look great, either.
yahoo.com
Sienna Miller in Thakoon
Pant-suits seem to be a little tricky, and there are some instances where one can easily flop like this one. I don't like the open slit, the black tassels you can find to match your drapes if you wanted to, and the odd texture of the entire outfit. I'll give her points for wearing a wonderful shade of red.
yahoo.com
Tory Burch in Tory Burch
I don't particularly hate the dress entirely, but it doesn't seem to match the theme. Yes, the dress is feminine and soft, but that's about it.
Chloe Sevigny in J.W. Anderson
The outfit is actually cute. It reminds me of what I used to wear when I was a kid (it wasn't like this, I swear; it's more like a traditional Chinese dress). I feel like she didn't need to over-accessorize (ahem, rings, bracelets, and choker). I still love how unique this is, though.
Kris Jenner in Balmain
Change your shoes!
Please.
When I first saw this, I thought she looked beautiful, but then came the horrid shoes. It's too strappy, and the pointed gold tip doesn't help it either. Those shoes are meant for a different kind of outfit.
Shoes matter.
Elizabeth Banks in Micheal Kors
I love Micheal Kors.
I love this dress.
It's not good if your dress is too tight in certain areas, though.
Anna Wintour in Chanel
The oversized shoulders are a no.
Katy Perry in Moschino
Although dress designer Jeremy Scott was her date for that night, I don't like the dress that much; the graffiti was a tad bit too much. On the other hand, literally, Jeremy looks spiffy.
Now let's look at the best of the night.
Do's:
Beyoncé in custom Givenchy
She's still rocking that skin tight + sheer combo. Basically, if you know how to flaunt it, then werk it.
Zoë Kravitz in Alexander Wang
Bey isn't the only one who can wear a skin-tight + sheer combo. Although it's not like like hers, Kravitz's look embodies her personal style. 
Good for her.
Kim Kardashian West in Roberto Cavalli
Yet another celebrity wearing the skin-tight/sheer combo. I love how intricate the patterns are, and that train! She completes the look with a youthful, dewy look with her slicked back hair in a ponytail.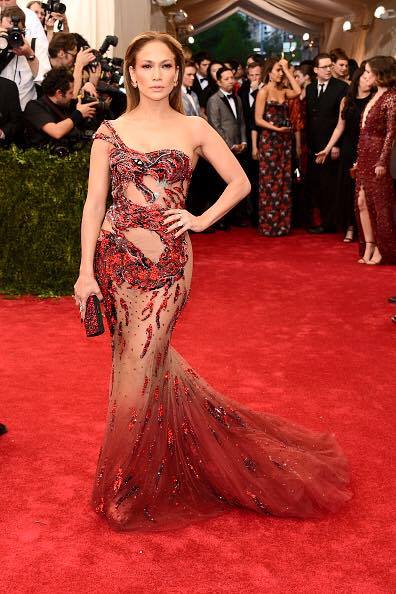 Facebook
Jennifer Lopez in Versace
The queen B's got some competition for the most tastefully sheer gown this year. What else can I say, other than "she looks stunning!" Those curves are to die for.
Fei Fei Sun in Michael Kors
Sometimes, the best accessories are simplicity, bold eyeliner, and a smile.
Shu Pei Qin in Tommy Hilfiger
V-neck plunging done right! Not only that, this shade of red compliments her glowing skin. Stunning.
Amal Clooney in Maison Margiela
The variants of red make me so happy; they remind me of my hometown. Also, I adore the textured ruffles, and how they make her dress elegant.
Cher in Marc Jacobs
I can't be the only one, but it appears that the dress has fish scales on it, and that isn't a bad thing at all. Not only does the dress look wonderful, she looks just as great.
Helen Mirren in Dolce & Gabbana
She looks sophisticated and chic; I like that the cut-outs aren't drastic, making this an age-appropriate look while maintaining an air of class.
Diane Kruger in Chanel Haute Couture
Pants AND a train?! A daring look; she pulls this off quite well.
Janelle Monáe in H&M
Personally, I've always liked black and white together, and this goes on to explain why: it's simple, but classy (even if you're showing some skin).
Emily Ratajkowski in Topshop
It may not have that vivid red, but this dress (for me) matches the China theme to a T.
Sofia Vergara in Marchesa
She looks like a blushing bride, and she looks so happy.
Honorable Mentions:
vogue.com
Rihanna in Guo Pei
I'm aware that there are memes for her train resembling an egg being cooked on a skillet--regardless, she IS flawless. Additionally, she's one of the few wearing a Chinese designer.
Zendaya in Fausto Puglisi
This is by far one of my favorite looks of the night. She looks like a princess from another galaxy - in a good way. I've been a fan of hers for a while now, and she has yet to disappoint me. It's hard to believe that it's her Met Ball debut, though.
Solange Knowles in Giles
This deserves to be placed in the honorable mentions list because: 1) I can't decide whether I like it or not, and 2) It stands out. This has got to be one of the most intriguing dresses I've ever seen.
Karen Elson in Dolce & Gabbana
The crown says it all.
Sarah Jessica Parker in H&M and a custom Phillip Treacy headpiece
SJP most certainly thought out the Gala's theme; the headpiece was based off of a traditional Chinese bridal design, and she wore jade bracelets, too. While I'm uncertain as to how I feel on her dress, I do like the headpiece she dons.
Anne Hathaway in Ralph Lauren
I can't be the only one who was reminded of Princess Leia, right?
With all of these fantastic gowns, I feel that the best look of the Met Gala belongs to....
Fan Bingbing in Christopher Bu
Her look screams royalty. Sophisticated and gorgeous, this look leaves me breathless. She may not be wearing red, but I feel as though her gown best represents the theme entirely, and I'm not saying that just because she's Chinese, fyi. Extra props for wearing a Chinese designer.
I am slightly disappointed in the lack of Chinese designers, but overall, the majority of celebrities looked fabulous!
Keep Up With PopWrapped On The Web!