Mystery solved. Months after it ended, and
How I Met your Mother
is still answering seminal questions that have plagued fans for years. The one that has plagued fans since season 1, fondly referred to as "The Pineapple Incident" has
finally been solved.
As a refresher, unlucky in love Ted wakes up one morning with a sore head from a night on the town, a girl in his bed and a pineapple on his bedside table. While the episode dealt with the mystery of the woman and the night, the pineapple remained an enigma, wrapped in a veil, wrapped in a fruity cocktail of curiosity.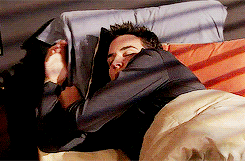 Courtesy ohgodpeter.tumblr.com
9 years later, fans finally have the answer we were waiting on with bated breath. Ready, set, SPOILER! As it turns out Carter Bays and Craig Thomas had an answer on hand for the episode "Daisy" from the final season and it ended up on the cutting room floor. As it turns out, we can thank Kyle MacLachlan's The Captain for the mystery. In the Episode "Daisy", it was revealed that the Captain has left a pineapple on his front porch as a part of his nautical traditions and Ted—being that level of drunk where you spot things (like shopping trolleys and traffic cones) and decide it is your duty, nay your right, to take them home with you—grabbed the pineapple off the Manhattan townhouse porch and made his merry way to the most intense morning after mystery solving we had seen on TV that year. The scene is going to be included in the final season DVD boxset, which will also include the alternate ending which we have all determined should have been the actual ending, for fans to enjoy and finally have a little peace of mind that the Pineapple incident has finally been solved. The next mystery to solve: When was Robin a Bull fighter? After that: How did they not choose the alternate ending?!
Keep Up With PopWrapped On The Web!
Twitter  SoundCloud Facebook Instagram Tumblr Pinterest YouTube