Unless you've been living under a rock, 2016 was a great year to be a Metallica fan. The heavy metal band celebrated their 35th anniversary this year and show no signs of slowing down. After an eight year hiatus, their newest album debuted at the top of the Billboard charts. They're on tour, and, when they're not performing the National Anthem for Bay Area sports teams, they're giving fans plenty of opportunities to virtually catch a show. If that's not enough for you, they're combing through their archives and releasing previously unreleased material.
Metallica: Back to the Front
In honor of the 30th Anniversary of Master of Puppets, the band released a book commemorating the album and tour. Back to the Front is a visual documentary packed with new interviews and never before seen photos. It also includes a tribute to bassist Cliff Burton, who tragically passed away during the tour.
See Cliff's father, Ray Burton, introduce the book below.
Remastered Albums
Metallica remastered their first two albums, Kill 'Em All and Ride the Lightning. Both are available in multiple formats with varying levels of extras, including demos and full length concerts.
Record Store Day
The band served as Record Store Day Ambassadors and performed a live concert at San Francisco's Rasputin Music. For those of us not lucky enough to be there, the concert was broadcast via Facebook Live.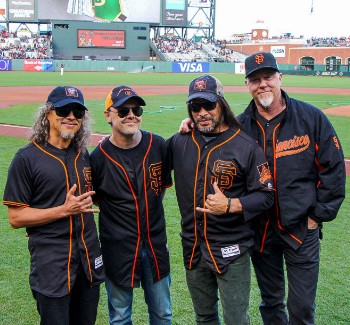 Metallica
Pandora Concert
Metallica partnered with Pandora to live stream the first rock concert at U.S. Bank Stadium in Minneapolis. You can listen to it in its entirety or go track by track. You can even skip straight to "Battery" if you want. Leading up to the concert, the Pandora station hosted a mixtape of songs chosen by the band. The best part about this? The concert and mixtape are still streaming on the Metallica Live Pandora channel.
The Tonight Show
A few months ago, the band swung by The Tonight Show and performed "Moth Into Flame," from the new album. They also played "Enter Sandman," using classroom instruments with The Roots, and shared some tour stories.
Hardwired... to Self-Destruct
Metallica recently released their tenth studio album Hardwired... to Self-Destruct and promoted it in a unique way. There's a video for all 12 songs on the album, plus a bonus video for 2014's "Lords of Summer."
Watch all 13 videos below!
YouTube Concert
To support the release of their latest album, Hardwired... to Self-Destruct, Metallica partnered with YouTube to live stream a concert from The House of Vans in London. It was a great mix of classics and new songs.
Watch "Breadfan" below!
What do you think Metallica fans? Wasn't 2016 a great year to be a Metallica fan?