Is Michael Buble the only man out there that doesn't know that body shaming is a problem and we will not accept it? Or does the man just like big butts and cannot lie?
The singer sparked outrage after an image was posted to Instagram of Buble facing the camera and, in the background, a woman dressed in a pair of short shorts, along with the caption, "There was something about this photo Lu took that seemed worthy of Instagram."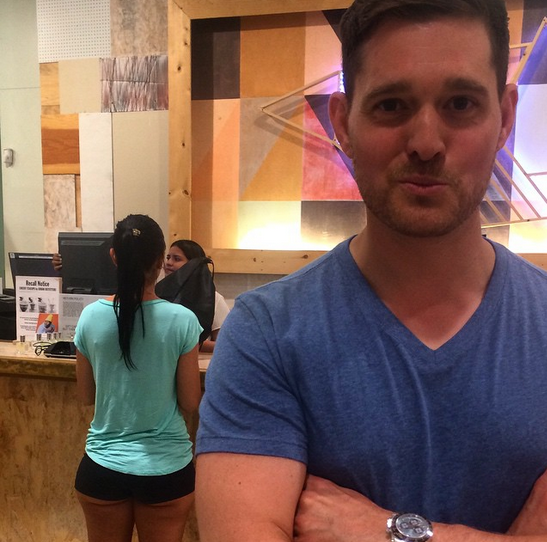 Instagram
And as most posts on Instagram go, the hashtags were there too, all to the likes of, #myhumps #babygotback #hungryshots #beautifulbum.
And so it began, the comments came pouring in, some accusing the singer and his wife of publicly body shaming a stranger and posting the image without the woman's permission, while others saw the image as Buble's perfectly acceptable public statement about his admiration of all that bass.
To defend himself he took to Facebook to set the record straight:
"I do not court controversy. But I realize that a photo that was meant to be complimentary and lighthearted has turned into a questionable issue. For the record, It hurts me deeply that anyone would think that I would disrespect women or be insulting to any human being.. I was not brought up that way and it is not in my character. I regret that there are people out there who found the photo offensive. That was not and is not my intention. Women are to be celebrated, loved, respected, honored and revered. I've spent my life believing that and will continue to do so."
Say what you want, Buble and wifey Luisana are not the only people to have taken a sneak peak of an unexpected stranger whether it because "Damn, he's fine," or because you just spotted your bestie's ex with a new beau,  we see you. Now maybe posting it onto a social media site with over one million followers isn't the best idea, but what we can tell is that there was nothing negative implied by Buble, and we do agree that women are to be celebrated, loved, respected, honored,  revered and nothing less!