Rain Varela
Staff Writer
@Rain_Varela
We have lost another Hollywood Legend, Two-time Honorary Academy Award Recipient Mickey Rooney has passed away.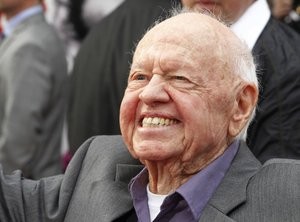 Courtesy of www.albanyherald.com
Born Joseph Yule Jr. on September 23, 1920, in Brooklyn, New York City. Rooney was born to a family of artists, his parents Joe Yule and Nellie Carter were both vaudeville performers. He had his first taste of show business when as a 14 month old baby he accidentally crawled on stage where his father was performing. Hearing him sneeze, his father snatched him up and introduced him as 'Sonny Yule'.  Feeling the spotlight on him for the first time Rooney would go on to describe it as his mother's womb and thus began his long career.
Courtesy of www.biography.com
He started doing movies at age six playing Mickey McGuire-a  character based off a
Toonerville Trolley
comic strip  in 78 short films. He legally changed his name to Mickey McGuire so that the producers would avoid paying royalties, a strategy that did not work but would eventually lead to his famous screen name. He later changed the moniker to the much catchier 'Mickey Rooney'. Best remembered for playing Andy Hardy in a total of 16 films in what may be considered one of Hollywood's earliest film franchises, He was paired with fellow legend Judy Garland in three of these films. The two shared a very close relationship "Judy and I were so close we could've come from the same womb. We weren't like brothers or sisters but there was no love affair there; there was more than a love affair. It's very, very difficult to explain the depths of our love for each other. It was so special. It was a forever love. Judy, as we speak, has not passed away. She's always with me in every heartbeat of my body." Rooney said in describing his friendship with Garland.
Courtesy of classicmoviestills.com
Mickey Rooney has had one of the longest careers on Hollywood, spanning close to 92 years. He actively made films from the 1920's to the 2010's.  He was nominated for four Academy Awards and received Two Honorary Oscars, an Academy Juvenile Award he received in his youth and another one later in his life for his great body of work.   He was also remembered for his multiple marriages-eight in total, and to make it sound even more impressive, his first wife was no less than fellow Hollywood legend Ava Gardner. He was famous for saying "Always get married early in the morning. That way, if it doesn't work out, you haven't wasted a whole day." He is survived by his eight wife Jan Chamberlin whom he married in 1978  they separated in 2013, and eight surviving children –one of his sons Tim Rooney passed away on 2006.
Keep Up With PopWrapped On The Web!