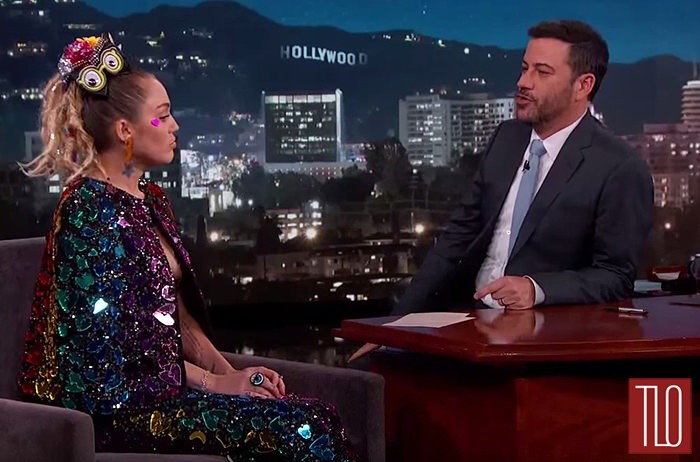 Miley Cyrus appeared on Wednesday's episode of Jimmy Kimmel Live! in true 'Miley fashion', otherwise known as wearing very little fashion.
The "Wrecking Ball" singer confidently wore a bejeweled skirt and cape that revealed two heart-shaped nipple pasties and lots of under-boob. Kimmel, on the other hand, fidgeted awkwardly and had a difficult time maintaining eye-contact.
During the interview, the pair fittingly talked about nudity, nipples and tit-tape. Cyrus expressed feeling more comfortable baring all as her clothes - or lack of them - were often a great icebreaker. She even shared an experience of meeting Paul McCartney when her minimal clothing style created a shared sense of awkwardness.
Kimmel couldn't help but ask a give-away fatherly question; 'What does your dad think?' Miley responded with; "He'd rather me have my tits out and be a good person than have a shirt on and be a bitch." Now, that's what you call unreserved love.
Cyrus makes some valid points on nudity and societies perception of it during the interview, such as; "humans aren't afraid of the human breast, it's the nipple that's the issue." But, she also comments that on her experience of visiting a nudist beach "it was insane the people that were choosing to be nude." Ah well, that's enough wise words for one day, Miley. Watch the whole interview above - eyes up!