HA!!
Miley Cyrus has tried to one up Kim Kardashian's naked cover for 'PAPER' magazine, by also posing nude, while being accompanied by her pet pig!!
The 'Wrecking Ball' singer stripped down for the recent summer issue, and was photographed with Bubba Sue,  her pet pig who she adopted last August after one of her beloved dogs died.
In the accompanying article, Miley opens up about her hectic schedule, as well as being so lucky that she's able to display her body in provocative poses.
That's an interesting way to look at it. 
'I was doing a show two nights ago and I was wearing butterfly nipple pasties and butterfly wings. I'm standing there with my t*** out, dressed like a butterfly. How the f*** is that fair? How am I so lucky?'
The full article is expected tomorrow, with the magazine even promising that it will include some racy photos!!
Miley's cover may not 'break the internet' like Kim Kardashian's did.....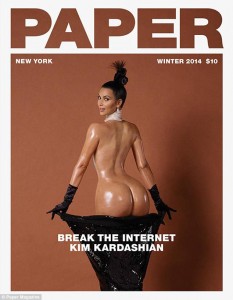 DailyMail
Or maybe it will? 
Who's cover do you think is better?
Miley's or Kim's?
Or neither?
Yours truly is torn. Both covers are ridiculous in their own way, but they speak to each of the ladies.