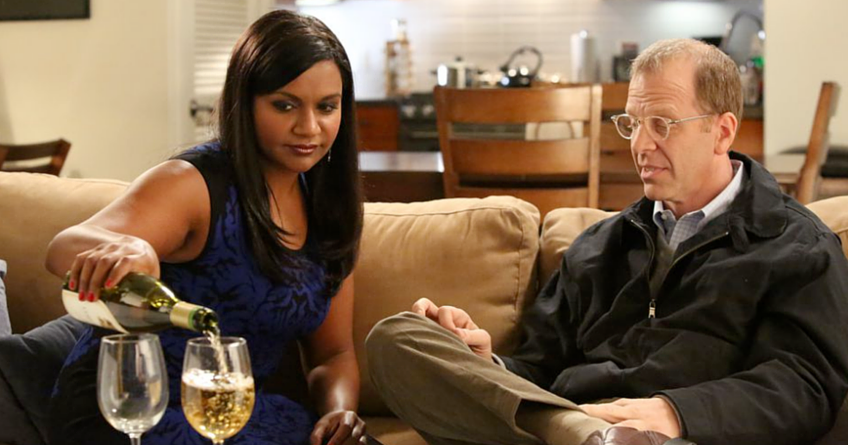 Call me old or just call me basic, but I simply did not know what DTF stood for. I made it through the entire episode wondering what the heck was going on and when I finally took the time to look up DTF in the Urban Dictionary everything clicked into place. Of course, that's what it meant! I am such an idiot.
This week marked Mindy's first time back on the market and she ain't got time for no chit-chat, foreplay or (heaven forbid) dating. She needs to get her groove on and she needs to do it, like, yesterday. Not wanting to beat around the bush, the very first scene begins in the middle of a hook-up between our favorite doctor and...Morgan! Let's just say that his tattoo doesn't say "No More Stealing Cars" but, rather, "Come to Morgan." I almost did a spit take all over my computer.  Of course it was a very vivid dream and it was a great way to start the episode.
Mindy looks to her sex-crazed neighbor, Chelsea to help her figure out how to find a man to hook up with. The "Pork It" app is suggested as the answer to her problems, but Mindy's not ready for that quick action and opts for hooking up via "Cuddle Spot" instead. She ends up with a creepy guy with nut (the kind you eat) issues and hits the door. She finally tries the "Pork It" app and gets an instant hit. She goes to meet her "date" at a local bar and finds a guy that doesn't even want to talk, just take it into the bathroom and get things done. She finds every way to stall and ends up making friends with the hot bartender.
It doesn't work out with either dude and Mindy is at a loss. She later decides to head back to the bar to proposition the bartender (JJ) and it all works out to her advantage. He heads over to her place for some mutual sex and I'm happy and sad for her at the same time. It seems like a new low for our Dr. Lahiri.
Meanwhile, Jody is still upset over the fact that Morgan mailed the letter he had written to Mindy, asking her for a date. There has been no response from Mindy and he's freaking out. In an attempt to get Mindy to his house he invites her over to watch television to see this hot show Elementary. He doesn't even have a TV, but whatever--he just wants to be with his crush. Mindy, being who she is, immediately invites the entire staff over to Jody's house and he sets into a panic.
The Elementary viewing happens without Mindy (she's off trying to hook up) and Jody is hooked. He parallels his relationship with Mindy to that of Holmes and Watson. He's ready to try to ask her out again. The next day, Jody asks her for coffee and she agrees. Hours before they are to meet up for their "date," who should walk into Jody's office but Danny Mussolini Castellano! Jody sent the letter to Mindy's old address and Danny is not happy. Jody tells Danny that he will back off. Danny meets Mindy in their elevator and tells her to make good decisions. Mindy doesn't know what he's talking about but nods in agreement.
So that's about it for this week. We got to see new Danny even though we long for old Danny. Jody seems to have been scared off of trying anything with Mindy and Mindy isn't so sexually frustrated anymore. The episode was slight, but it had a few good moments: Jeremy in a Sherlock Holmes outfit, more time with Colette, and a (somewhat) drama free moment between Mindy and Danny. With the recent news that The Mindy Project has been renewed for a fifth season on Hulu, I can only hope that are many more ensemble moments and worthy story lines for our funny crew.
Favorite quotes this week:
Mindy: "I haven't had sex in such a long time. I'm thinking of donating my thongs to the troops. You know, for morale."
Mindy: "I'm talking six months, Bro. This is the longest I've gone without having sex since the first 25 years of my life."
Chelsea: "No STD's this month. I'm turning into my mom."
Tamra: "No, you can't cancel. I already bought all of the ingredients for my one layer dip--ranch."
Morgan: " You don't have to worry about the letter anymore, 'kay? Cousin Lou told me if she hasn't gotten it by now it's probably lost. He was a postman--in a porn."
Colette: "Up until yesterday you didn't even have a TV." Jody: "Well, uh, there are a lot of things you don't know about me, Colette. For example, last week I enjoyed a Mexican burrito sandwich. I hated it."
Bartender: "You're stalling aren't you?" Mindy: "No. I just...look. Obviously I would like to have sex. Honestly, I'm only, like, 50% sure it's worth dying over."
Mindy: " I think what I realized is that it's not just about sex. I mean, I can handle that. Why else do I have a middle and index finger?"
How did you feel about this week's episode? Are you feeling good about where things are headed? Let me know in the comments below. See you next time.