Goodness knows that living in the United States this past week has been an exercise in handling fear, anger and uncertainty. The deaths of Alton Sterling, 37, in Baton Rouge, LA and Philandro Castile, 32, from Falcon Heights, MN, at the hands of police officers, sent many people into a vortex of overwhelming emotions. Many people took to protesting more vigorously in cities around the country and others vented their horrors an frustrations through social media.
While social media sites such as twitter and Instagram are used by a large amount of people for various reasons, they are absolutely essential for celebrities and entrepreneurs that are looking to keep a profile in the public eye and sell their brand. Actress Mischa Barton is one of these people. Her image has been less than stellar over the last ten years, since she left her television show, The O.C., back in 2006. Not known for making the wisest decisions, or coming off as anyone someone might remotely want to hang with, she really did (more) damage to herself with an Instagram post she put out to the public regarding the deaths of Sterling and Castile.
Eyes closed, wineglass in hand--and quite obviously enjoying some well needed bikini time on a boat--she shared her feelings with the entire world:
I'm truly heart broken to watch videos like the #altonsterling execution. This may have been going on forever in the United States but thank god the pigs get caught on camera now. It's unthinkable and an embarrassment to America. The country I was brought up in. Somebody make change. We need gun control and unity. And a real President so think about that when this election is around the corner. The world is a precarious place right now. #stop #reflect and #act appropriately.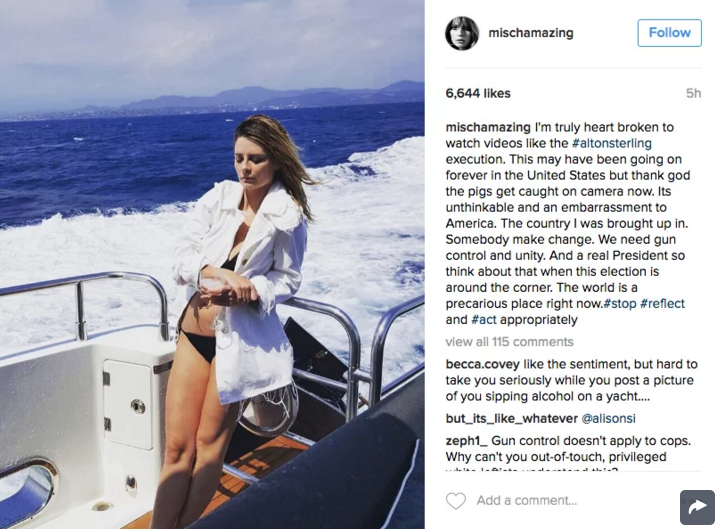 Instagram: Mischa Barton
It's not to say that people aren't allowed to have an opinion on things, but there are, quite obviously, more palatable ways of trying to get their point across. Crying foul over the "executions" of people of the United States by "pigs" while enjoying luxuries that many people can't afford was not the way to do it. Social media blew up against Barton immediately, and she was forced to make an apology:
I'm human I'm not perfect and I'm sorry if my Instagram post went out of context I didn't mean to offend anyone

— Mischa Barton (@MischaBarton) July 8, 2016
Taken out of context or not, Barton managed to make plenty of people unhappy. Several days later she returned to social media to #PrayForDallas, when gunman, Micah Xavier Johnson, opened fire on police officers at a protest rally:
My heart goes out to the families of the innocent police officers who were shot in the line of duty. ? #PrayForDallas — Mischa Barton (@MischaBarton) July 8, 2016
It was a tweet that many people took umbrage with, considering her statements about police officers just a few days before. For someone that makes a living in the public eye, Barton truly failed to analyze how her emotional and extremely incendiary statement would be taken by that public. It wasn't the first time she has made such a grand faux pas and it probably won't be the last. She just can't seem to help herself.