Tonight saw the World Premiere of one of the third installments of the highly anticipated movie:
The Hunger Games: Mockingjay Part 1
. Held in London's Leicester Square to the attendance of hundreds of fans,  the cast and filmmakers were greeted to a warm reception and flaming (quite literally) bowls of fire placed along the red carpet. Newcomers to the films are
Games of Thrones
Natalie Dormer and Julianne Moore who both play Cressida and President Coin respectively. Wearing a long, black sheer dress, Moore was very excited to be part of the red carpet experience and even described her first time on the film's set as exciting. " I love these movies, I love the books, I was thrilled to be involved and the cast could not have been more welcoming." Jena Malone who was the first to arrive and wearing a lovely off the shoulders yellow/white gown greeted the fans with extreme enthusiasm, even waving and running along the barriers to sign autographs and say hello. "She's been through  hell," Jena says, describing where her character of Johanna is. "(She's) way more fierce than I am!" And what characteristics does she love about her character? " I love her determination...and her energy is just so insane.  It was just so fun to kind of feel that energy in my body." As is the norm with most London Premieres, the weather held up for a change and no rain was in sight which I am sure must have pleased everyone in attendance. Elizabeth Banks, Sam Claflin, Stanley Tucci, Josh Hutcherson, Jeffrey Wright, Liam Hemsworth and Jennifer Lawrence - who received the loudest cheer - along with director Francis Lawrence posed for pictures and interviews with the media. Jennifer Lawrence reprises her role as Katniss Everdeen, the reluctant hero who continues to fight and rebel the Capital. Dressed in a beautiful white quilted  gown with flower patterns, the actress looked happy signing autographs and though rushed she still made an effort to see as many of her fans as she could.
Courtesy of: Mirror
Fans even tried to give her pizza and various food for her to take which she jokingly was suprised by the fans kind gestures, and  even flattered that they remembered her favorites. About what she loves about her character of Katniss? "(Her) courage. I can never imagine being that brave or facing the things she has to face without crying everyday." And what can fans expect of her in this movie,  Jennifer continues " In this movie she's being completely stripped down...and has lost herself, and has to rehabilitate herself throughout the film." The premiere was streamed live via Yahoo where Hunger Games fans were treated to two exclusive short clips of the films which showed Katniss seeing Peeta alive for the first time on TV and a scene where we are introduced to Dormer's character of Cressida. On her character's physical appearance, her particularly her infamous hair cut,  actress Natalie Domer said, " Francis Lawrence, our amazing director and I had a conversation - and we thought 'you know what, she's gonna be a little bit Capital, a little bit more funky and edgy...she's rocking half the head and not the full head (hair). " Coming back as their roles of Gale and Peeta, Liam Hemsworth and Josh Hutcherson told reporters about  where there characters are as of this moment and what it was like working with the cast. Hemsworth describing Gale as "finally getting to do some physical stuff. He's been held back for the last two but he's amongst them in this one." Whereas with Hutcherson's character a much different version than the one who we are use to seeing in last two films, Peeta's character has most definitely changed after being captured by the Capital, and the most effected. "(He's) been brainwashed, " Hutcherson told the media, "....held captive and torchered.....everyone knows of Peta being this good guy and having this caring, loving side to him and then he gets taken over by the Capital and changes everything." "It was fun to play, " he continues, " Hard, but very fun to play" British actor Sam Claflin even tweeted his excitement about the premiere this evening and gave a brief reasoning as to what motivates his character Finnick's fight for survival.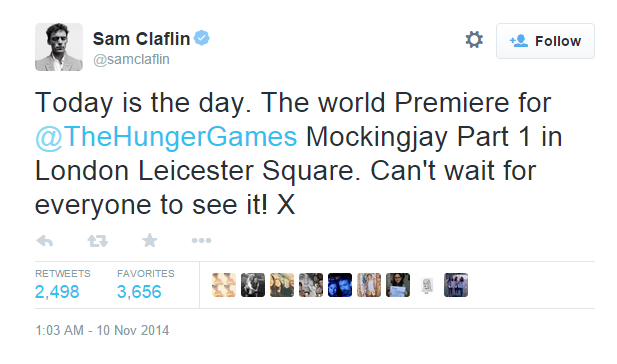 Courtesy of: Twitter
"Love. Everything he does is for the love of his life, and we all know what love feels like." He continues with a cheeky laugh much to admiration of his fans who cheered when they actor spoke of his reasoning.  If you are a fan of the books, you're probably are aware of which character he is talking about, though the films have yet to cast the actress.  Guess we will have to wait and see when
Mockingjay Part 1
opens in cinemas on the 20th November. Let us know what you think of the film! Let the Rebellion begin!
Keep Up With PopWrapped On The Web!