Dianne Hoffmeyer, a 41-year old mother of three, responded to being body-shamed by fellow patrons with remarkable kindness and paid for their coffees. While in line at her local Tim Hortons, Hoffmeyer heard the women behind her call her names, criticize her appearance, and question her parenting skills.
Hoffmeyer had been up the entire evening before with her daughter, Lily, a toddler who is currently teething. The women behind her in line called her a "whale" and a "retarded lard ass" as Hoffmeyer selected some treats for her daughter, in an effort to raise Lily's spirits before going to visit the doctor. 
The insults were especially hurtful given Hoffmeyer's recent health triumphs. When pregnant with Lily, she was diagnosed with congestive heart failure, and has since lost 177 pounds, bring her current weight to 120 pounds. For the record, 120 pounds is considered  a healthy weight for someone who is anywhere from 5' 1" to 5'6" in height. It's considered underweight for people taller than 5' 6".   
Instead of responding to the women who body-shamed her with anger or hurt, Hoffmeyer decided to set an example for her daughter by doing something kind instead. She says:
I bought [the coffees] for them because it was the right thing to do. Instead of perpetuating a negative situation, I wanted to do something positive. I wanted to show my kids that you can make a positive out of a negative anytime.
Hoffmeyer wrote about the situation in a Facebook post addressed to "the 2 mean bitter ladies", and explained why she choose to respond the way she did.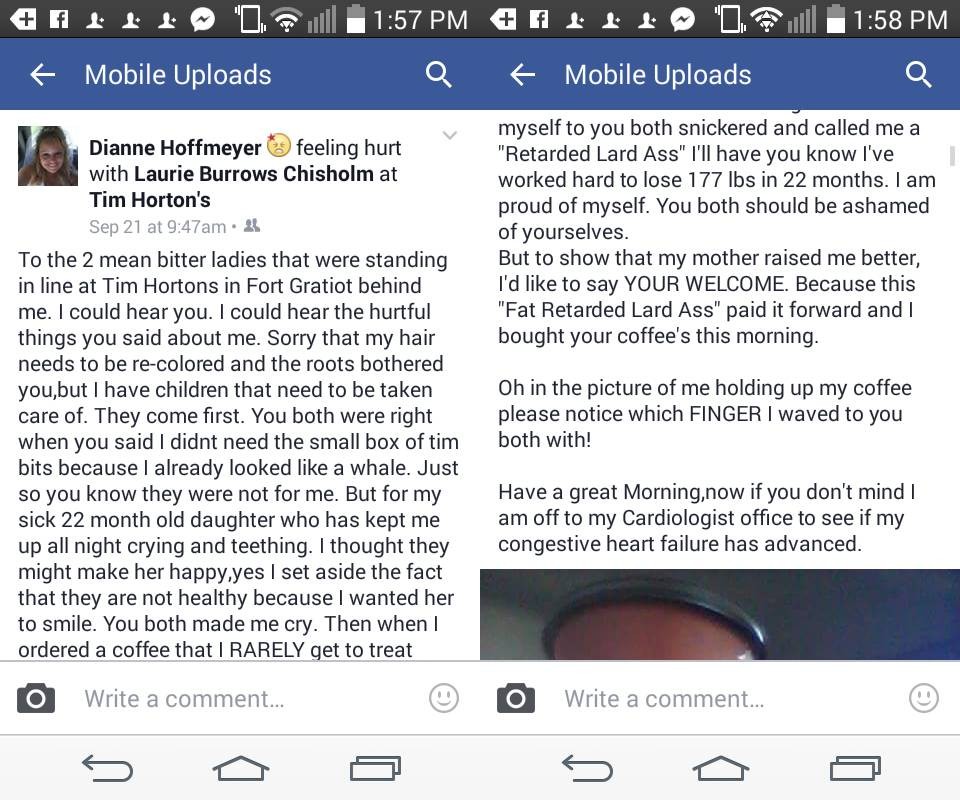 Courtesy of Global News
The responses were mostly positive, with people across the world giving kudos and offering gift cards. Not all the attention Hoffmeyer received was positive, however, and her original Facebook page was limited after many memes and photos were reported for violating terms of service. 
The message that Hoffmeyer had hoped to spread to her children did reach them, and definitely made a difference. She reported that her 13-year old son used the same approach when dealing with a bully at school, telling her that she inspired his actions.