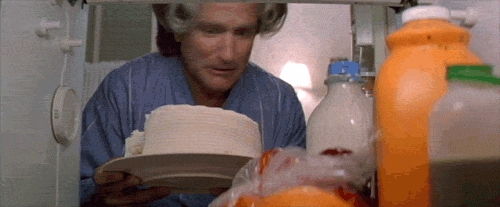 Courtesy of EOnline
One of the most well-known and beloved movies of all time is
headed to the stage
. Yes, Disney producer and composer Alan Menken is working on the music for a stage adaptation of the film favorite,
Mrs. Doubtfire!
According to Menken, "It's in its early stages. We're really enjoying working on it," adding that, "It's going very well." As most fans know, this family comedy starred Robin Williams and Sally Field as a couple in the middle of a separation as well as their three kids. Williams played Daniel, a voice actor, who uses his skills to transform himself into a 60-something Scottish woman to serve as nanny to their children. Hilarity ensued, and along with several touching moments, the film tugged on the heart strings of America and is still seen as one of Williams' best roles. Though the cast of the musical has not yet been announced, we can tell you that Harvey Fierstein, who played the brother of Williams' character in the movie, is writing for the stage show. David Zippel, a composer whom Menken worked with for the film
Hercules
, is penning the lyrics. Those who have seen Mrs. Doubtfire know that there were a few musical numbers in the film, such as "Matchmaker, Matchmaker" from
Fiddler on the Roof
. The soundtrack also featured songs by Aerosmith, Frank Sinatra, House of Pain and The Four Seasons. Are you guys excited about seeing this being brought to the stage? Give us your opinion in the comments!
Keep Up With PopWrapped On The Web!