For the past five weeks, I have been play-testing a new strategy card game called Mutology. The two player game uses pre-constructed decks to battle your opponent. Players take the role of bio-engineers and mutate specimen into mutants. Having mutants generates research points required to achieve victory.
Players start their turn with five concentration tokens and spend those tokens to play cards, use abilities, or draw need cards. Cards can be played in one of two zones, the lab or the field. Cards in the field are able to use their abilities and mutant cards in the field will earn research points. These cards can also be attacked in a clash, or attack cards in the opponents field. Cards in lab zone are protected from attacks, but their abilities are inactive.
Each player has a second set of cards called the Mutant Sideboard. To play these cards, players must first play a specimen and the required radiation cards. This changes the specimen into a mutant, who will be able to earn research points and fight with other mutants to prevent your opponent from earning points. If you want to learn all the fine gameplay details and card types, the rulebook is available on their website, Mutology.com.
I can't wait to get this mutant out in the field and crush my opponent! @Mutology #BoardGames pic.twitter.com/rbDN5AE8fj

— Matt (@thecultofpop) February 29, 2016
The game relies heavily on your ability to strategize. There is a learning curve, so don't be surprised if you suffer a brutal loss in your first game (I did). However, after playing it a couple times you learn which cards are important to succeed. There is a small element of luck when it comes to which cards you draw, but certain card abilities such the Dynamo device card allow you to look into your deck a pick the radiation card you need.
The rules also allow you to redraw cards for your starting hand. Knowing what cards you need in your starting hand is essential to winning. My advice is try to have a lab assistant card in your starting hand. Lab assistants generate additional concentration, which allows you to do more in one turn and progress your strategy faster.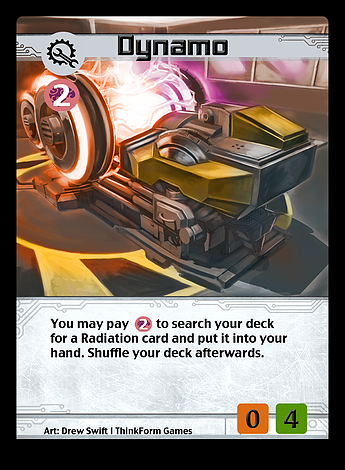 wixstatic.com
Players' decks are not identical and all the cards have varying unique abilities. As you become a skilled mutologist you can construct a custom deck that fits your strategy. This means it can take some time to learn what all the different cards can do, but this provides so many differents ways to approach acheiving victory. One of my personal favorite aspects of the game is that the mutant cards are double sided. One specimen can be mutated into two different creatures with different stats and abilities. Players must choose which mutant suits their needs and play the required radiation cards.
This can create situations where you must decide between mutating a specimen which the cards you have and start earning research points, or wait and hope you draw the cards you need for the other mutant. It also creates the potential for interesting interactions with cards such as Discombobble. This procedure card allows you to flip a target mutant card. Perhaps your opponent has a really strong mutant that is killing your specimen as you play them, flip it over and it might have weaker stats.

Mutology
One of other interesting aspects is the two play zones, lab and field. Each zone can only contain four cards, forcing players to choose wisely when placing cards. Once all the spaces are occupied, players have to choose which cards to discard. The placement of cards in Mutology allows abilities to take position into account. There are devices that buff the strength of adjacent mutants, and lab assistants that can heal nearby damaged cards (see below).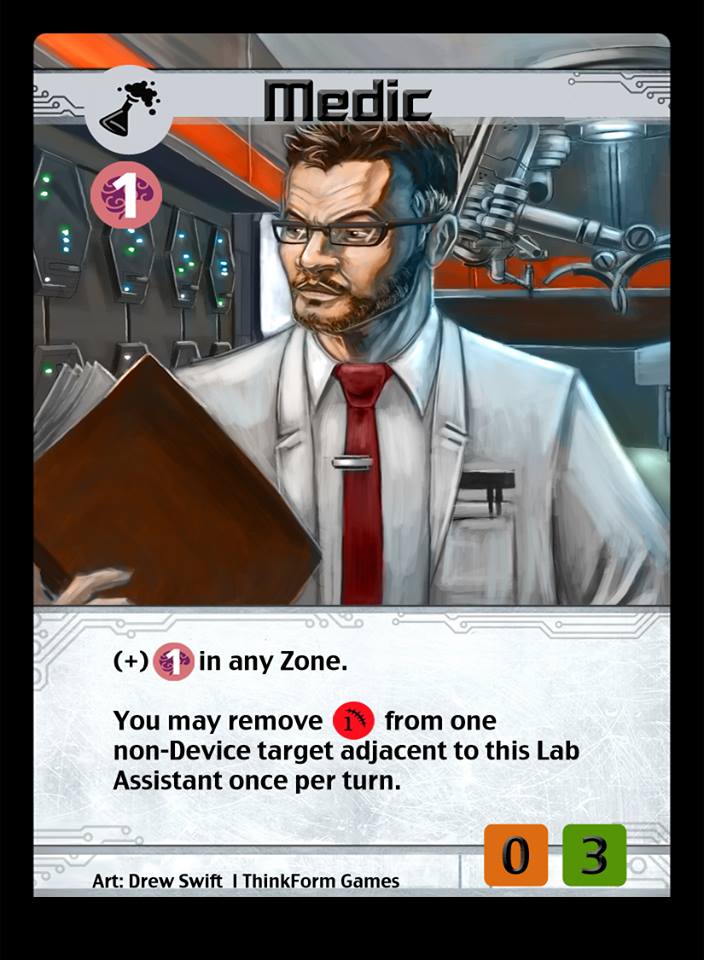 Mutology
I have to admit that at first some things were a little confusing. There are a lot of rules and different scenarios that can arise, so it can be overwhelming for new players. Mutology is not a beginner card game, it feels targeted towards advanced strategy players tired of simple games. The game has some very unique mechanisms and abilities. It is unlike most other games I have played before.
The card artwork is an added bonus that make all the cards interesting to look through. The game originally took over an hour to play, learning what every card did as you played it slowed things down. After learning the cards better and reducing the research points goal, the game is much faster and can be finished in 30 minutes. I enjoy the fact that Mutology is a two player game. Large group strategy games are great for gaming meetups, but sometimes I want to play games with one friend and two-player versions of games are much less fun.
It is important to note that this is all based on my experience with the playtester kit and original rulebook. From my conversations with the designers and with feedback from other playtesters, the rulebook has been revised to give new players a better foundation to start with. Plenty of card abilities have been clarified and any confusing text changed. The designers have been very receptive to feedback on their game. What started as a slippery slope to a frustrating loss has already developed into a much more enjoyable fast paced game. By the time Mutology launches on Kickstarter, it should be honed into a great two-player strategy game.
Mutology is expected to launch this summer and pledging $30 (subject to change) to the Kickstarter will get you a copy of the game and strategy PDFs for advice on advanced gameplay. Visit Mutology.com to sign up for updates so you don't miss out when it launches on Kickstarter. You can also pick up a print and play copy to download from their website. If you have any further questions about the game, comment them below or tweet me @thecultofpop.