Ana Mendoza Packham
Staff Writer
featured
in MTV's showcase of Artists to Watch, where they proved that they're definitely not just another cover band that many had pegged them to be. Their first hit, "Make Out", is fast and catchy, with their newest song, "Me and My Broken Heart", slowing things down a bit with an edgier R&B vibe. I recently had the immense pleasure of meeting these fantastic (and super cute) musicians. They had an intimate acoustic performance at the Clear Channel Studios in Madison, Wisconsin, and I was one of the 12 lucky winners of Z104's Breakfast with the Band contest.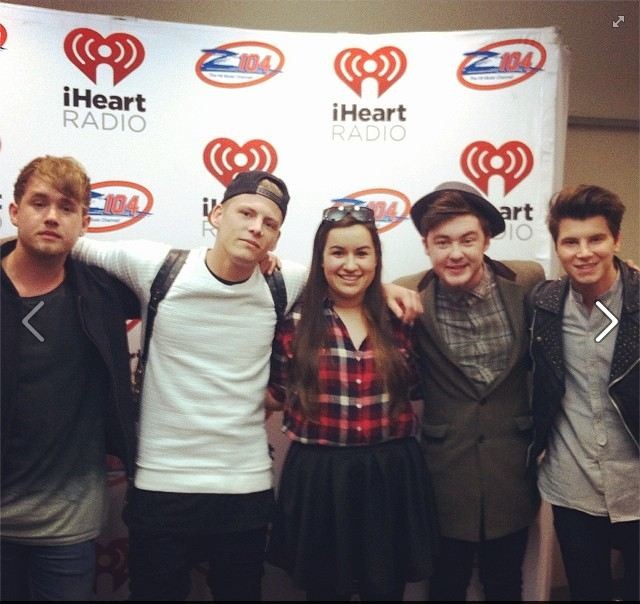 Courtesy of Ana Mendoza Packham/Instagram
When we were first all herded into the quaint venue, we were greeted not with tea and crumpets (Did I mention Rixton is from England? Swoon worthy accents: check), but with Panera bagels and hot cocoa. We even got to check out the different studios in Clear Channel while the boys set up their equipment. Half an hour later, the moment had arrived. My first reaction to seeing Rixton in person: Wow, they're really well dressed. My second reaction: Charley and Lewis's tattoos were way hotter in real life. My first reaction of any worth: Where's Jake? Apparently, being late is not uncommon for the lead singer. They started their set with "Speakerphone," an original song that will hopefully be on their EP that comes out in a couple days.
Lewi, Jake, and Danny. 
(Charley, evidently, is taken.) What do you look for in a girl? 
A pulse.
 (Quite reassuring) What color underwear are you wearing? 
Lewi: Black.  Charley: Grey Calvin Klein's.  Jake: Grey.  Danny: Tighty whities.
  (How cute is he?) After the questions came what was the best surprise of the day. I was invited up to sit in between Jake and Charley as they serenaded me with their latest hit, "Me and My Broken Heart." I'm sure the song was beautifully performed, but I sort of lost focus after Jake held my hand. I was much too busy wondering if Lewi would object to me asking to see the rest of his tattoos. After they finished performing, we all got a chance to get a picture with the lads. Katie Kruz accidentally grabbed Lewi's butt, and the rest of us cursed ourselves for not "accidentally" doing the same when we had our chance. Overall, my experience was stellar. They boys are super funny and sweet, and not to mention impressively well dressed, seeing as how they don't have a stylist traveling with them on what they deem their "Rixton Road Trip."  These guys will definitely give One Direction and The Vamps a run for their money on the charts, and I for one can't wait to see them do it. Don't forget to buy Rixton's upcoming EP,
Me and My Broken Heart
, which drops in just a couple days.
Keep Up With PopWrapped On The Web!
http://www.PopWrapped.com
http://www.Twitter.com/PopWrapped
http://www.SoundCloud.com/PopWrapped
http://www.Popwrapped.Tumblr.com
http://www.Facebook.com/PopWrapped
http://www.Instagram.com/PopWrapped
http://www.Pinterest.com/PopWrapped
http://www.YouTube.com/PopWrapped