Twin Peaks
fans are clutching their telepathic logs tightly in hopes that the cult phenomenon TV series will be coming back to life after its untimely cancellation over two decades ago. Show co-creators David Lynch and Mark Frost sparked the fan frenzy on Oct. 3 when they both
tweeted
, "That gum you like is going to come back in style" along with the hashtag #damngoodcoffee, references to two famous lines from the oft-quoted show.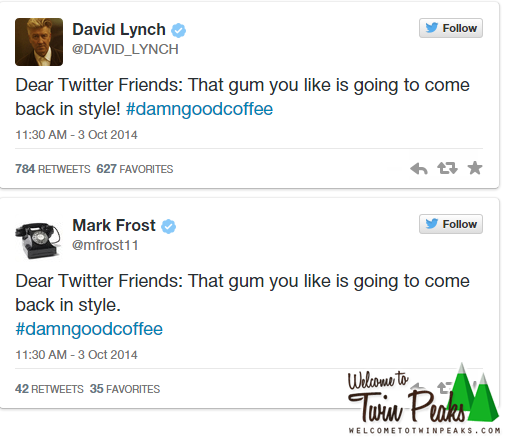 Courtesy of Twitter/ indiewire.com
Much like the owls, however, these tweets may not be what they seem. Rumors regarding the return of
Twin Peaks
have been around for years, only to end up dead and wrapped in plastic like poor Laura Palmer herself. So while it may be too soon to grab the celebratory doughnuts and pie just yet, Frost and Lynch's tweets have to mean
something
, so we'll just have to hold on until all the secrets are revealed. Would you be excited to return to the Black Lodge, PopWrappers? Let us know in the comments!
Keep Up With PopWrapped On The Web!