A team of scientists analyzing data received from chemical maps of the surface of Mars have found evidence of recent water flows. Researchers found that the recurring slope lineae (RSL) on the steep, but relatively warm slopes like those seen in the picture below, are actually caused by salty water, in liquid form. The RSL look like dark lines, pointing downwards.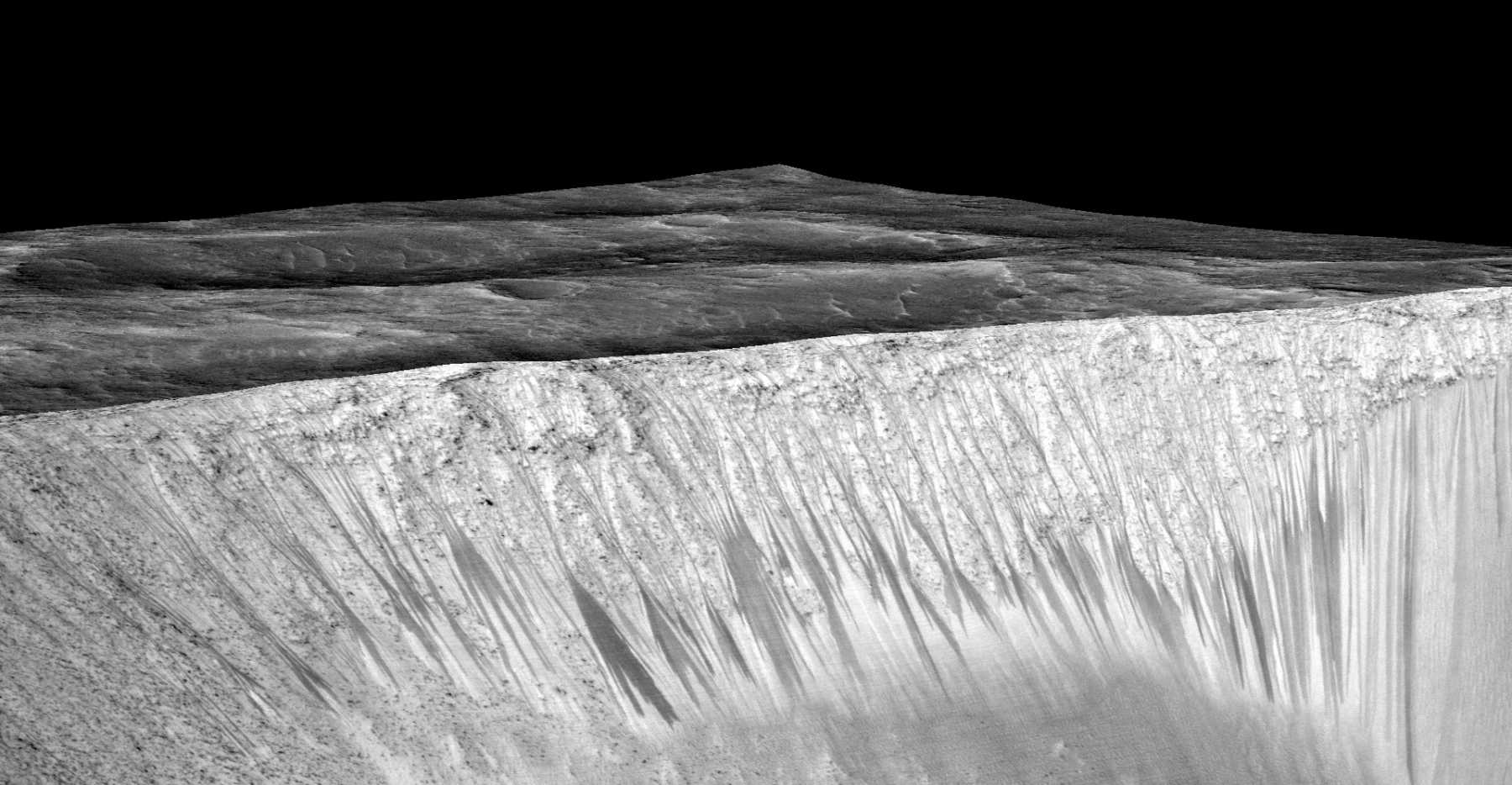 Courtesy of NASA
Water is one of the essential requirements for life, a fact confirmed by lead author Lejendra Ojha. This discovery could indicate that life may be possible on the surface of the seemingly inhospitable planet. The chemical make up, and the source, of the salty water, or brine, are unknown, but will change the way people think about the possibility of life on Mars. Ojha said that:
The presence of liquid water on Mars' present-day surface therefore points to environment[s] that are more habitable than previously thought.
The RSL occur in a variety of locations across Mars, and in some cases extend for hundreds of miles. They are only present in warmer weather, and completely disappear when temperatures drop, indicating that water or some other liquid, is involved in their creation. When Ojha and his team studied the data more closely, they were able to find that there is "spectral evidence for hydrated salts" in the same location where the RSL are seen. Hydrated salts come from liquid water; their presence indicates that water had recently been there. The hydrated sales also "vastly increase" the "stability of brine [salt water] on Mars".
While NASA's Curiosity rover indicates that life may at one time have been possible on Mars, the planet is now exceptionally cold and inhospitably dry. This discovery is particularly exciting because it supports the idea that "simple life-forms could exist on the planet's surface now".
What do you think of the exciting discovery on Mars? Let us know in the comments. Just don't drink the water.