Well, this is something.
It was the clip heard around the world, when New Zealand's 'X Factor' hosted what many are calling a moment they'll never forget. Then judges Natalia Kills and husband Willy Moon were chastised (and FIRED) after they both went off on a ridiculous rant towards contestant Joe Irvine. Kills really got the ball rolling when she slammed Joe for copying her husband's style, and Willy chimed in with his ridiculous two cents as well. The backlash came quick and heavy, as the two quickly left the country amid the controversy. Here we are now though, and the two have taken to their Twitter accounts and posted different apologies to Joe, however it appears they are also throwing the show under the bus by implying they were told to "shake things up". Natalia started off with: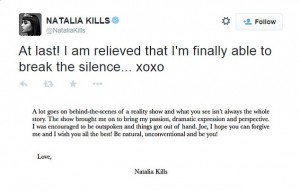 Twitter
And her husband quickly followed: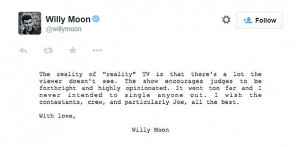 Twitter
What do you guys make of their apologies?
Sincere or damage control?
In case you missed what caused all of the madness in the first place, check out the televised moment below: