Today is a very sad day for the NCIS family. Gary Glasberg, the franchise showrunner, passed away suddenly today in Los Angeles at only 50 years old. Although not many details have been disclosed regarding his death, it has been stated that he died peacefully in his sleep.
Glasberg was the executive producer and showrunner of NCIS and the creator and executive producer of NCIS: New Orleans. The cast and crew of the franchise, who surely are still trying to comprehend and come to terms with the loss of their leader, have released the following statement:
"Gary was our rock, our cheerleader, our team captain. He inspired us with his leadership, his creative instincts and keen insight. NCIS will not be the same without him, and each of us will miss his smiling face and unwavering humor, which lifted us every day."
In loving memory of Gary Glasberg. https://t.co/kubHizmQSm pic.twitter.com/ToCjFHQ4Ad

— NCIS (@NCIS_CBS) September 28, 2016
Gary Glasberg, who -- before creating spinoff NCIS: New Orleans in 2014 -- joined NCIS in 2009 as writer and co-executive producer and was named showrunner in 2011, was highly regarded at CBS. The network's President of Entertainment, Glenn Geller, released the following statement:
"Today is an overwhelmingly sad day for NCIS, CBS and anyone who was blessed to spend time with Gary Glasberg. We have lost a cherished friend, gifted creative voice, respected leader and, most memorably, someone whose warmth and kindness was felt by all around him. Our heartfelt thoughts and sympathies go out to his wife, Mimi, his two sons and all his family and friends."
David Stapf, CBS TV Studios President, stated:
"We are devastated by the passing of our dear friend and colleague Gary Glasberg. He epitomized the word mensch and brought kindness, integrity and class to everything he did. His remarkable talent as a writer and producer was only matched by his ability to connect with people. Gary was a beloved member of our family and we are so honored that he called CBS his home for so many years. Our hearts go out to his wife, Mimi, two sons, his entire family and all those who loved him."
NCIS former star Cote de Pablo released the following statement to Deadline:
"I worked with Gary Glasberg for years during my time at NCIS. The news is shocking and sad. My thoughts and prayers are with his wife and his two kids, with the cast and crew ... I will remember him by his great big smile."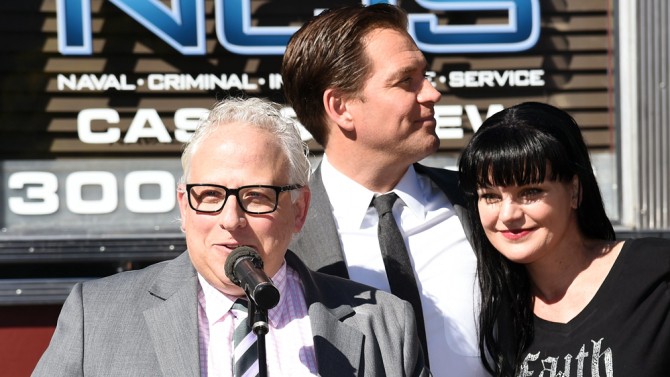 Shutterstock
Some of the NCIS franchise cast took to social media to pay tribute to Glasberg.
What sad a day this is. Gary Glasberg was a gentle man and gentleman loved by so many people. Send your love to his family.

— Michael Weatherly (@M_Weatherly) September 28, 2016
Our hearts are collectively broken. Our #NCIS show runner and boss Gary Glasberg has passed away. In shock and sadness. There are no words.

— Pauley Perrette (@PauleyP) September 28, 2016
#NCIS has lost an incredible man & leader, Gary Glasberg I'm grateful 4 ur trust & love, till we meet again. We'll make you proud #RIP ?

— Wilmer Valderrama (@WValderrama) September 28, 2016
Dear Gary Glasberg. I will so miss his intelligence, enthusiasm and joy.

— Joe Spano (@FornellNCIS) September 28, 2016
A sad day. You touched so many lives and careers. An awesome boss and a wonderful man. May you rest in peace Gary! ?????? #NCIS #NCISNOLA https://t.co/TOqKlZSXoL

— Shalita Grant (@ShalitaGrant) September 28, 2016
Incredibly sad day for the NCIS and NCISNOLA family. He literally changed the course of my life, and was a true joy to be around. RIP Gary. https://t.co/y8tP02GNfb

— Rob Kerkovich (@RobKerkovich) September 28, 2016
We are heartbroken by the sudden loss of our leader and friend Gary Glasberg. To my NCIS family, I wish I was with u on set today.

— Rocky Carroll (@RockyCOfficial) September 28, 2016
Heart broken to hear of Gary Glasberg's passing and sending love to his family and #NCIS family @mostx1 @SeanHMurray @BrianDietzen

— Melinda McGraw (@Melinda_McGraw) September 28, 2016
May prayers be with your two young boys, you changed my life. Period. #ripgaryglasberg #ncis

— Duane Henry (@RealDuaneHenry) September 28, 2016
Gary Glasberg is survived by his wife of 20 years, television producer and screenwriter, Mimi Schmir; their two sons, Dash and Eli; father, Edwin; and sister, Mindy. Our hearts go out to them and to all his family and friends at this difficult time.