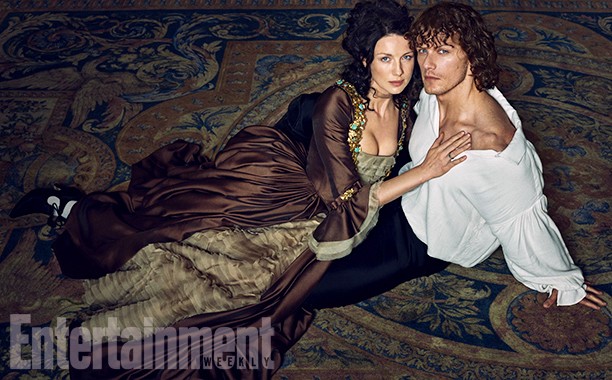 EW
Just as filming wrapped on its second season, epic time-travel/historical fiction/romance/psychological drama Outlander saw its first cover story on Entertainment Weekly. Shot by Marc Hom, the cover features the show's two main characters, played by Caitriona Balfe and Sam Heughan, in a passionate embrace and largely sans vêtements. In record time, the cover has provoked online debates between fans old and new as to its appropriateness, how and whether it defines the show, and whether it pushed a bit too much. Liz Shannon Miller wrote an excellent article in Indiewire last May debating the necessity or possible exploitation of sex as a facet "fully embedded into the make-up of the show," and it was remarkably prescient in light of this week's cover.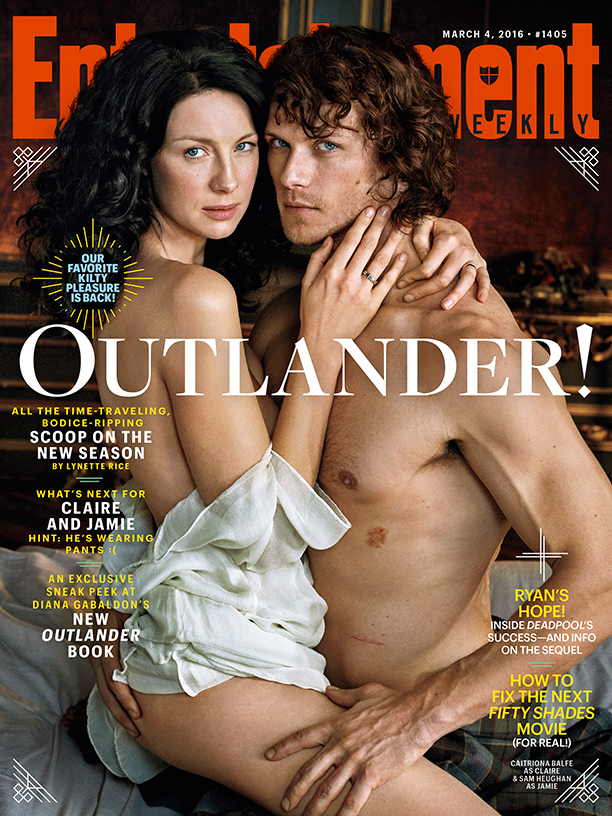 EW
When the EW cover photo first appeared online on February 25, my first reaction was "They did a Mulder-Scully cover!" I'm referring to the famous Rolling Stone issue from May 16, 1996, published one day before the finale the third season of The X Files. It, too, generated equal amounts of heat and controversy at portraying its then-platonic stars underneath the sheets, staring up at the camera while topless and embracing each other. By season three, the Fox show had worked its way up to a rabid fan base, largely due to the chemistry of the two leads, played by Gillian Anderson and David Duchovny. Their "will they or won't they" slow tease lasted well into the series (they didn't share a real kiss until the seventh season), allowing for the show to explore their relationship on a professional, friendly, and possibly spiritual level. Through their years together, their singular relationship has seen separation, illness, constant danger, sacrifice, and the creation and subsequent loss of a child. It has caused them to live apart for long periods of time, but whenever they reunite, as in 2016's tenth season, they retain that connection that has never worn thin.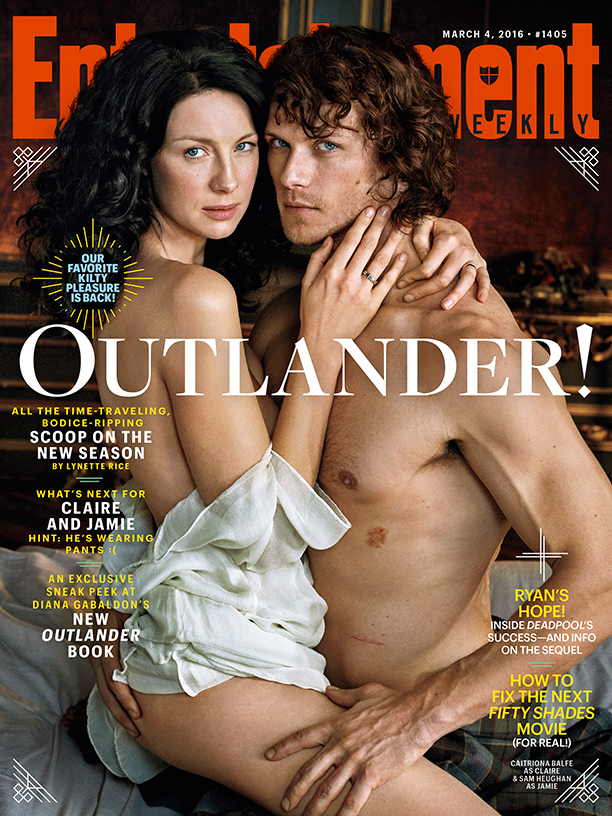 Rolling Stone
Sound familiar?
At first glance, both covers appear a bit tawdry: lusty and exposed, the two figures share an embrace that clearly shows they were caught sharing more than library books. What is subtly brilliant about the Outlander cover - and I never thought I'd say this about Entertainment Weekly - is how much is revealed and discussed in the scene depicted. As a reader and a viewer of Outlander, I'm going to tow the line between both types of fans and try not to reveal too much of upcoming events to those who prefer to only watch the show (which is a viable choice).
First off, there are three people in that scene, though only two are physically present. Jamie's scar from where Murtagh removed the brand made by Jack Randall in the bowels of Wentworth prison in the season finale is still fresh beneath his left breast. Randall's spectre will continue to haunt Jamie throughout the second season, including Jamie's physical relationship with Claire. To showcase the scar so prominently on the cover foreshadows the lengths the couple must endure to regain that connection.
Secondly, there is a possessiveness that both Claire and Jamie share in the photo that reveals their intensifying desperation and strain from the first season. Even "show fans" who are paying attention to episode stills, cast portraits, and extended trailers released by Starz know that the second season will involve more intrigue, deception, and moral and spiritual turmoil than the first. The decorum and etiquette of the French court and high society provide the jewel-covered sheen over the rapacious underbelly of gossip, alliances, and illicit dealings behind silken fans and velvet curtains, and the Frasers must stay unified and adapt themselves to this duplicitous world in order to accomplish their goal of saving their countrymen and Highland culture.
What I find most cheeky (pun absolutely intended) about the cover is what it says about the perception of the show by people who either don't understand it or aren't familiar with it. Yes, it says, there is sex going on here! And we do it right! And it's healthy! If you're going to develop a show about two adults and the anatomy of their relationship, which is very much rooted in the spirituality of their physical connection, this is the way to present it. As a reader and a watcher of Outlander, I am constantly reminded of  DH Lawrence, the early 20th century author who constantly had to defend his work and its frank and detailed sexual content, and who championed physical intimacy as a means to regain natural and spiritual connection. Sex in all its shades and motives is laid bare throughout the Outlander series: sometimes tender, sometimes cruel; sometimes selfless, sometimes selfish. Jamie bears the physical and emotional scars of such cruelty. Claire, by still wearing the wedding rings of both Frank and Jamie, displays the outward signs of the internal struggle that will continue to haunt her throughout the upcoming season.
Again, I'm trying to stay away from mentioning too many details of the book for the "show fans," but sex is very much a part of Outlander's commentary on control and communication between individuals. Placing Claire, a modern woman even of her original time, into the 1740s when sexual intercourse was not as much of a dialogue as a command or directive, illuminates more of our own mores about the natural practice as Claire finds her hard-won agency restricted in all but the bedroom. The EW cover shows the couple's physical relationship as the book often presents them, their bodies responding to each other on par with and sometimes beyond what they verbalize - and this is a couple who doesn't shy from conversing before, during and after sex. Being emotionally and socially intimate before their relationship grew physical has allowed their brief time together to attain an honesty and openness that will withstand the inevitable pressures and hardships of marriage and the outer world.
Assessment: come for the action, stay for the conversation. Both extend deeper than the glossy veneers. Season Two premieres April 9, 2016.
Check out the rest of the EW's gorgeous Outlander shoot in the gallery below.
[gallery type="slideshow" ids="128134,128133,128132,128131,128130,128129,128128,128126,128125"]