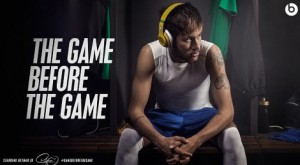 Tarra Matthews
Senior Content Manager
@tlcm_16
With The World Cup just around the corner it's time for companies to start bringing out their big advertising guns.
Beats By Dre
 has
just released
their epic 5 minute spot entitled "The Game Before The Game" which appears to capture the spirit of the World Cup and its players far better than Pitbull's official track even has. [embed]https://www.youtube.com/watch?v=v_i3Lcjli84#t=251[/embed] The mini-movie stars Brazilian football star Neymar Jr. who is getting sage advice from his father.  After an opening seemingly cut from a dramatic mob movie, the screen
is flooded
with stars of the pitch from France's Bacaray Sagna and Mexico's Javier "Chicharito" Hernandez to Germany's Bastian Schweinsteiger. And of course Dre can't forget his musical friends, Nicki Minaj, LeBron James, Serena Williams and Lil Wayne. If the soundtrack to the whole film sounds familiar, it's because the track, "Jungle" by Jamie N Commons & The X Ambassadors was featured on all those promos for season 2 of 
Orange Is The New Black.
It definitely works as a World Cup 'pump up' anthem, perhaps better than any of the songs specifically written for the tournament. After watching 'The Game Before The Game" are you even more pumped for the World Cup? Which team do you think has what it takes to capture the cup?
Keep Up With PopWrapped On The Web!