Ten long years since The End was written, author Lemony Snicket has hoped readers had forgotten the dismal tale of the Baudelaire children.
But it seems that Netflix hasn't gotten the memo because an all new teaser trailer for the Netflix series Lemony Snicket's A Series of Unfortunate Events was just released.
In a surprising twist, we actually see Snicket, portrayed by Patrick Warburton, who embraces his usual fourth-wall breaking attitude and directly addresses viewers as he walks from what we can expect is the set for the series.
He explains that, in most normal situations, people might expect to see the cast and crew going about to help give viewers a sneak peek into what they can expect in the upcoming drop of an all new season. However, the life of these three particular orphans, the crew is apparently dealing with "low morale," which means "under medical observation for melancholia, ennui and acute wistfulness."
The low morale seems to be affecting all but Neil Patrick Harris -- who might be Count Olaf in disguise -- as he is quite excited and singing joyfully off-screen. Before the teaser ends, Snicket implores people to not make the same mistakes others have and to stay away from Netflix and not watch the series.
The 8 episode series is based on Lemony Snicket's popular collection of books that follow the unfortunate lives of the Baudelaire Orphans. After a mysterious fire destroyed their home and killed their parents, they must deal with their dreadful new guardian Count Olaf, who would love to get his hands on their fortune, and try to figure out what exactly happened to their parents. The children go from guardian to guardian, picking up clues as they go, and try to escape the creepy clutches of Olaf.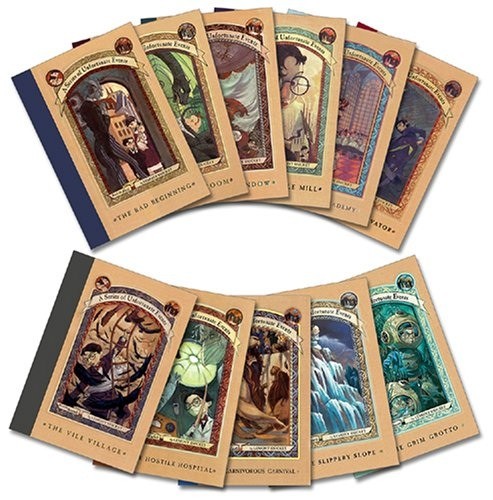 snicket.wikia.com
If this teaser reveals anything, the Netflix series will definitely keep the tone of Snicket's constant hope that the reader -- or, in this case, viewer -- will stop watching to save himself. Although short and leaving much to the mystery, the trailer does hold a few easter eggs. Can you spot the references to the mysterious V.F.D organization or the weird friendly elf movie that showed before the 2004 adaptation of the series?
Although Snicket hopes that people are Very Forgetful Dears, A Series of Unfortunate Events will be available on Netflix on Friday, January 13, 2017.