Clare Sidoti
Managing Editor
Angelina Jolie and the cast and crew of her new film,
Unbroken
, have been toughing it out filming Down Under last month. Tough life for some. Yesterday some new behind-the-scenes stills from the film were released. The film, adapted from Laura Hillenbrand's book, will be Jolie's
second directorial feature
and tells the story of Olympian and World War II hero, Louis "Louie" Zamperini.
Skins
star Jack O'Connell stars as Louie with
About Time
's Domhnall Gleeson as fellow war hero, Russell Allen Phillips. The filming has been particular grueling for the principal actors as they have had to be on strict diets for months to achieve the look of malnourished soldiers who have managed to stay alive in a raft for 47 days following the crash of their Air Force plane into the Pacific Ocean. Early last month, Gleeson discussed with
WENN
how his dramatic weight loss has assisted him with his characterization as well as making it seem "more authentic". The stills (above and below) were taken while filming some of the raft scenes.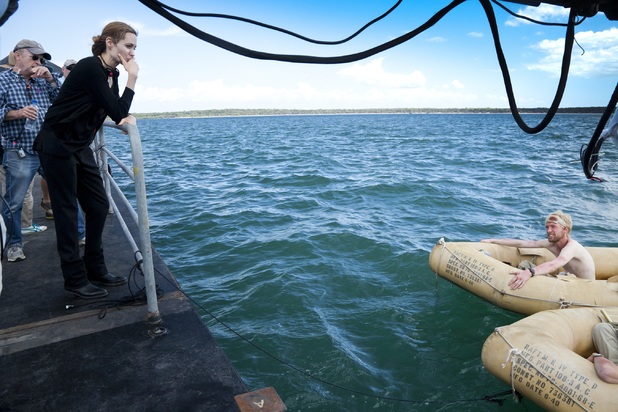 Photo courtesy of Universal
Unbroken
is set to be released in the UK Christmas Day, 2014.
http://www.Twitter.com/PopWrapped
https://pop-wrapped.tumblr.com
http://www.SoundCloud.com/PopWrapped
http://www.Facebook.com/PopWrapped
http://www.Instagram.com/PopWrapped
http://www.Pinterest.com/PopWrapped
http://www.YouTube.com/PopWrapped
https://pop-wrapped.wordpress.com
http://www.PopWrapped.com