A series of photos from security camera footage of a student from the University of Virginia who went missing Friday night
has been
released
by police
. The footage released Tuesday shows 18 year old sophomore Hannah Elizabeth Graham in a shiny gold and black crop top and black pants around 9:30pm on Friday night.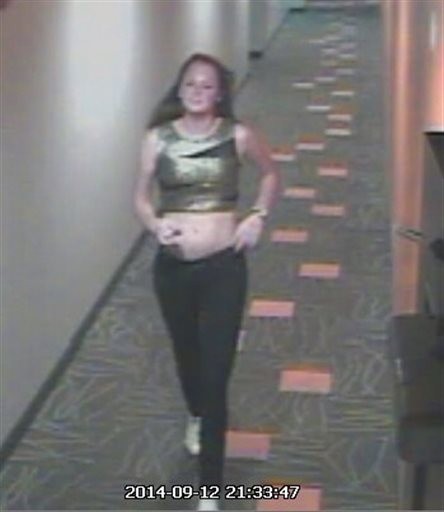 More footage that was released on Wednesday shows Graham running outside of a Shell gas station around 1am. No one was chasing her at the time. She was also seen outside of McGrady's Irish Pub around 12:45am. A new eyewitness account said she entered the Downtown Mall around 1am, and police are asking the stores in the area to save their security camera footage so they can figure out where she went from there. Around 1:20am, she sent a text to some friends saying she was lost around 14th St. and Wertland St., which police now
believe is incorrect
. 
"We don't know whether it was auto correct on her phone or she just typed it in wrong, we have no idea," said Police Captain Gary Pleasants.
Pleasants said he was working with the FBI to try and get phone data to see where the text was actually sent from. Graham was reported missing around 4:30pm on Sunday when her friends realized they hadn't seen or heard from her since Friday. Search teams have been looking for her since Monday. She was described by police to be "fairly well intoxicated" after a night of partying with friends. The disappearance has left several students shaken and fearful of their own safety. Police and the university president are urging witnesses to come forward with information about Graham's whereabouts, and police are describing her as a 
5'11" white female with a skinny build. She has blue eyes, light brown hair and freckles. She was last seen wearing a black crop top with mesh cut outs.
If you have any information about Graham's disappearance, do not hesitate to call 
Charlottesville Police Department at 434-970-3280 or CrimeStoppers at 434-977-4000. Stay safe out there.
Keep up with PopWrapped on the web!
Twitter SoundCloud Facebook Instagram Tumblr Pinterest YouTube