Emma Roberts....Ariana Grande.....Abigail Breslin....Lea Michele.........NICK JONAS
......
JAMIE LEE CURTIS!!!!!
Entertainment Weekly has nabbed some exclusive photos from Ryan Murphy's upcoming Fox series "Scream Queens" and yours truly has them here for all of you. The magazine sat down with creator of the show Ryan Murphy to get some insight as to what we can all expect. The series is set to debut this fall. On the plot: It opens in a flashback to 1995 at the sorority where something horrible happens. It's a mystery that goes unsolved. Flash forward 20 years to today, and it looks like someone is out for revenge. Something horrible happened to a pledge and on the anniversary of that crime, someone is out for vengeance. Structure of the episodes: One thing we've said to the cast is that every episode someone is going. It's always somebody you least suspect or expect. The killer is on a reign of terror. It's very much like 
Ten Little Indians
. There's a real tune-in factor because it's like, 
Who's going to be picked off this week? And also who is the killer?
 Every episode, you get clues as to who the killer is going to be and then all of these clues accumulate. Non-similarities with "American Horror Story": It's different than 
Horror Story
. Jamie Lee and I were talking about that in horror movies, particularly in that era, there was always the last girl, the final girl. So we're playing with that. Whoever survives—and there will be people who will survive—they will go on next season to a new location and a new terror. Unlike 
Horror Story
, which completely reboots, this has some of the continuity in that some of the characters and some of the relationships continue into a new world. For the entire article (and info about some of the characters) click the link
HERE,
and check out more photos below: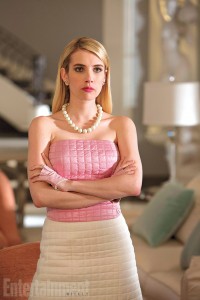 EWeekly
EWeekly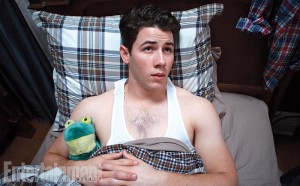 EWeekly