Abbie Sedgeman
Staff Writer
The Blue Room,
has been
revealed
, using infrared technology. The possibility of there being a hidden picture was noted in 1954, as conservators did not believe the brushstrokes matched the composition; but this was not investigated properly until the 1990s with an x-ray revealing a "fuzzy image." It was not until 2008, though, with the technology advancements, that a man was depicted when the
painting
was turned on its side. Since then, finding out the man's identity has been a priority for the experts from the Phillips Collection, National Gallery of Art, Cornell University and Delaware's Winterthur Museum. With this new infrared technology, the man is shown to be wearing a bow tie and resting his face on his hands, yet his identity is still unknown. A self-portrait has been ruled out, but it is considered to possibly be
Ambrose Villard
, an Art Dealer in Paris, who hosted Picasso's first show in 1901.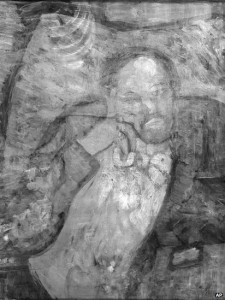 Associated Press
This is not the first painting to have been found under another piece of Picasso's artwork: After a technical analysis of
La Vie
, it was revealed to have been reworked a considerable amount. The reasoning for this has been speculated by curator Susan Behrends Frank who told press agency AP:
When he [Picasso] had an idea, you know, he just had to get it down and realize it. He could not afford to acquire new canvasses every time he had an idea that he wanted to pursue. He worked sometimes on cardboard because canvas was so much more expensive.
The research on
The Blue Room
and its hidden picture will continue, preparing for a new exhibition focusing on the two paintings in 2017. Currently, the painting is part of a 2015 tour of South Korea.
Keep Up With PopWrapped On The Web!