In a clip from a round-table discussion between lawmakers and NFL representatives provided by Reuters and cited in a New York Times article by Ken Belson, Jeff Miller, the N.F.L.'s senior vice president for health and safety policy, acknowledged the link between the sport and CTE (chronic traumatic encephalopathy).
In response to Representative Jan Schakowsky, who asked if he thought there was a connection, Miller referred to the research of Dr. Ann McKee, professor of neurology and pathology at Boston University School of Medicine, as "show(ing) a number of retired N.F.L. players were diagnosed with CTE, so the answer to that question is certainly yes." This stands in contrast to, as Schakowsky stated, the League's "very troubling track record of denying and discrediting scientific inquiry into the risks of playing football."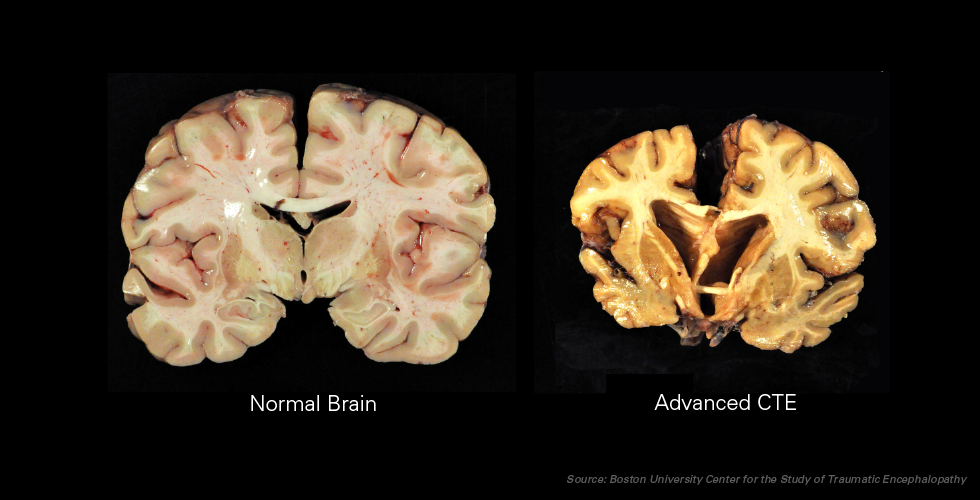 pbs.org 
According to Boston University's CTE Center, CTE is "a progressive degenerative disease of the brain found in athletes (and others) with a history of repetitive brain trauma, including symptomatic concussions as well as asymptomatic subconcussive hits to the head." Sports such as football, hockey, and boxing, where athletes withstand repeated hits to the head, and also military personnel are given the most attention. Symptoms may appear shortly after the last head trauma or take decades to become evident. Those symptoms may include "memory loss, confusion, impaired judgment, impulse control problems, aggression, depression, and, eventually, progressive dementia."
A 2012 Times article, also by Belson, described the four stages of the disease. Those with Stage 1 CTE display "headaches and loss of attention and concentration." Stage 2 compounds these symptoms with "depression, explosive behavior and short-term memory loss." Stage 3 involves "cognitive impairment and trouble with executive functions like planning and organizing." The final stage includes "dementia, difficulty finding words and aggression."
Dissection of brains donated by families of deceased athletes (at this time, CTE can only be diagnosed after death) indicate a buildup of tau proteins in the tissue. There is currently no cure for the disease. Ongoing research concerns how to identify CTE in living patients, why some athletes are more likely to develop CTE than others, and whether other factors such as genetics may be involved.