Wedding cakes ideas are getting more and more creative and Mike Evans' Groom's Cake is no exception.
The Tampa Bay Buccaneers wide receiver recently celebrated his marriage and one of the guests in attendance shared a picture of the magical creation that any Harry Potter fan would love. And after the reveal of this cake, it's safe to assume that Mike Evans is a big Harry Potter fan!
You know I respect ya, @MikeEvans13_, but you just skyrocketed to the top with this groom's cake. Congrats, bro! pic.twitter.com/SEohqMIGog

— Jerron Reese (@CoachReese12) February 15, 2016
The cake featured all four Hogwarts houses, with the tiers sitting below Hedwig's cage. The cake was also seemingly adorned with other classic accessories from Harry Potter, including Harry's glasses, the Marauders' Map, a Gryffindor scarf and some brooms.
The cake was interesting to see because of the curiosity behind the design! Other Harry Potter inspired cakes usually don't explicitly reference the different houses at Hogwarts, and usually just stick with Gryffindor or just other notable images from the Wizarding World, such as the Hogwarts Castle and the Golden Snitch to name a few.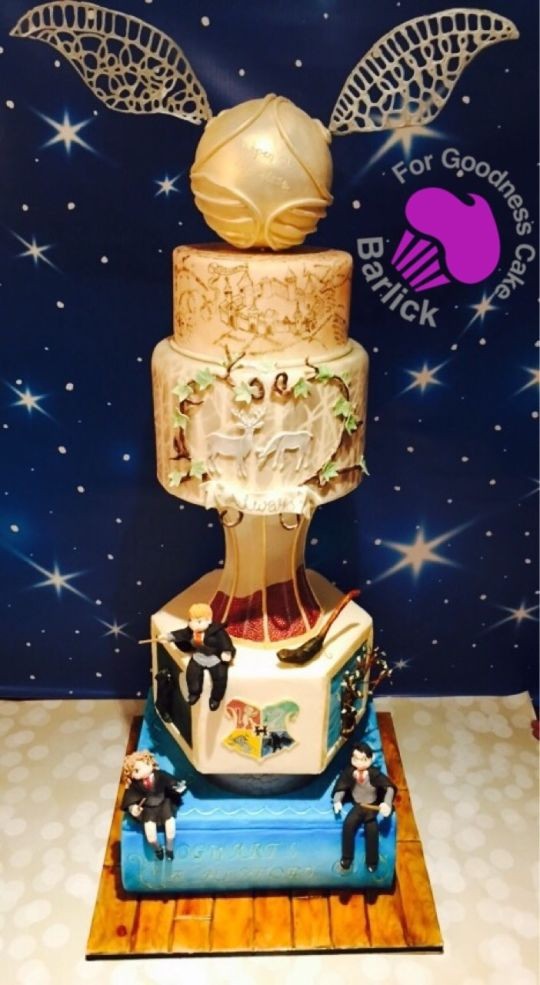 cakesdecor.com
This cake has definitely made a few Harry Potter fans think about incorporating images from their favorite franchise into their own wedding or grooms cakes in the future. Who knows, maybe another Potterhead will come up with another intricate cake design that we'll be talking about it here on PopWrapped in the future?
What do you think was missing on the cake? Do you agree with the inclusion of Hedwig? Would you include any of the Horcruxes? Would you even really want to eat a cake that looks this good? Let us know.