Nick Tucci Staff Writer @Nick_Tooch
And I thought I said this a lot!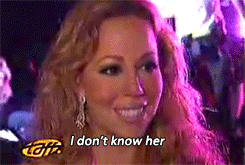 Courtesy of BuzzWorthy.MTV.com
Sometimes I think Mariah Carey talks about people just so she can remind us that she doesn't know who they are. In this instance, however, it was her husband, Nick Cannon, who spilled the beans about his wife's blissful ignorance. In a very candid (aka NSFW tbh) conversation with shock-jock (do people still say that?) Howard Stern, the
America's Got Talent
host spoke about his romantic relations with his megastar wife. "She doesn't care when I talk about our sex life because our sex life is amazing," Cannon said with a confident admittance. However, like most significant others, Mariah DOES care to NOT hear about his past conquests. From Christina Milian to Nicole Scherzinger, to the assumedly infamous Kim Kardashian, Mariah puts the kibosh on that topic. In an attempt to regain control of the aforementioned disclosure, Nick adds, "She doesn't even know who Kim Kardashian is… She doesn't pay attention to that." What is this "that" you speak of, Mr Cannon? That "that" makes millions of dollars a year, and can barely fit into a Smart Car, thank you very much! Listen to Nick Cannon on 
The Howard Stern Show 
and tell us your thoughts down below!
Keep Up With PopWrapped On The Web!