Iggy Azalea is not having a great week (year?). Nick Jonas will be taking her place at Pittsburgh Pride this weekend.
Earlier this week, the controversial Australian rapper cancelled her scheduled performance, which takes place this Saturday (June 13), after the LGBT community lashed out at her for some past tweets they saw as homophobic.
Bruce Kraus, city council president and Pittsburgh's first openly-gay elected official, also criticized the musician, and several artists cancelled their Pride appearances in protest of Azalea's performance.
Both the Delta Foundation of Pittsburgh and Jonas himself have expressed excitement about the change of plans.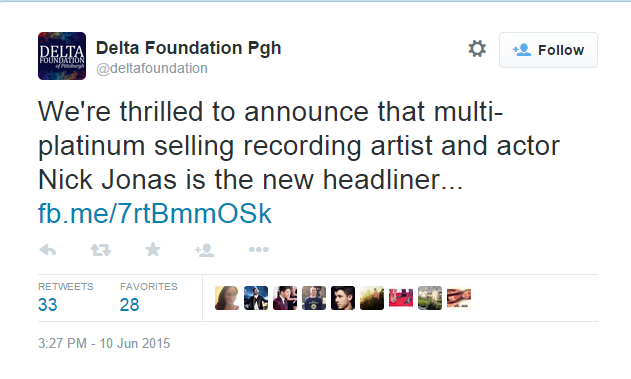 Credit: Twitter
"When I heard about the difficult position Pittsburgh Pride was in just days before their event, I knew I had to find a way to help. I'm excited to do what I can to support the LGBT community in Pittsburgh, and I look forward to seeing you this Saturday as we celebrate together," Jonas' official statement read.
Interestingly enough, Jonas was scheduled to join Azalea on her Great Escape tour, which she also axed recently.
In previous interviews, Jonas has said that he supports the right of all "to love and be loved," although he and his brothers were raised with religion as a foundation.
He's also glad that his solo music reaches an LGBT audience.
"...My goal in the last year was to expand and grow as a person and an artist, and embracing my gay fans was a priority. Some of my gay friends have thanked me for that, and that's a really good feeling," the 22-year-old told Rolling Stone.
Tickets are still available for Jonas' Pride in the Street performance, which requires attendees to be at least 18, unless accompanied by a parent/guardian over 25.