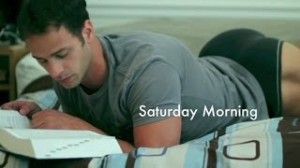 Ah, what a beautiful day it is for those of us who have already had the chance to witness the glory that is Bryan Hawn's amazing glutes in his "Anaconda" Music Video parody he released  on Saturday on his Youtube page. If you're not already familiar with Bryan Hawn, he's known for other parodies such as his Jason Derulo "Wiggle" rendition and the Iggy Azalea "Black Widow" video. He is also a renowned, international fitness icon featured on Billboards in Los Angeles, Phone Kiosks in Time Square, including department stores, Macy's, Dillards, and JC Penny. He also authored the book "The List," which exposes truths about getting that perfect body.
Courtesy of queermusicheritage
We could go into detail about the shots of his awesomely toned body parts in this video, but we'd much rather you watch for yourself. He brings life to the lyric, "zero in the middle but [she] got much back." Check out the Parody below:
Keep Up With PopWrapped On The Web!
Twitter 
SoundCloud
Facebook
Instagram
Tumblr
Pinterest
YouTube