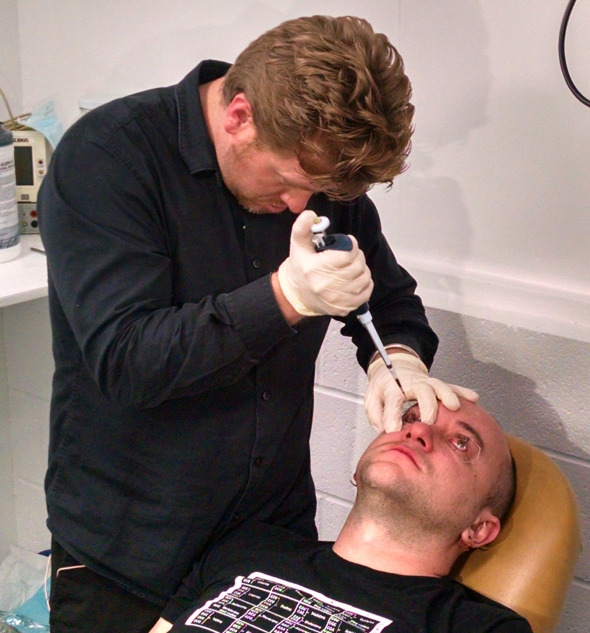 geek.com
Human night vision is no longer the stuff of fantasy. The renegade scientists of Science for the Masses have developed eye drops formulated from Chlorin e6 that they claim successfully enabled night vision in a test subject.
Chlorin e6 is a natural molecule found in some deep sea fish. It can be created in a lab setting from algae and other green plants. The molecule has already been used in medical applications, including cancer therapies and night blindness treatments.
The self-described "citizen science" group stated the natural next step for Ce6 was to see if it would allow a person with normal vision to see in the dark.
The team dripped 50 microlitres of Ce6 into the eyes of volunteer test subject Gabriel Licina, a biochemical engineer. After having the drops in his eyes for about an hour, Licina could reportedly see shapes in the dark that were about 10 meters away. The effect also increased in the short term.
Lucina claimed, "We had people go stand in the woods.  At 50 meters, I could figure who they were, even if they were standing up against a tree."
The effects lasted for a few hours in total and Lucina's eyesight returned to normal the next day with no negative side effects.
The group hopes to do more experimentation and research into the possibilities of Ce6.
Science for the Masses member Jeff Tibbets also stated that there will be many more bold adventures to come for the group. "For us, it comes down to pursuing things that are doable but won't be pursued by major corporations. There are rules to be followed and don't go crazy, but science isn't a mystical language that only a few elite people can speak."
Keep Up With PopWrapped On The Web!