While it's shocking that the holiday season is almost upon us, we've got some great Nintendo news that will get you excited about the fall and winter.
Earlier today, the lovely people at Nintendo released an infographic that outlines their North America/Europe game release calendar for the rest of 2015. There are quite a few WiiU games that will be out before Christmas and definitely a couple really big 3DS games as well.
The much anticipated Mario Maker is hitting shelves on September 11th, and it'll cost you $60. If you haven't taken the plunge yet and bought a WiiU (do it, trust me!) then you can get the Mario Maker bundle exclusively at Walmart for $300. It includes the game, their Idea Book, and an awesome 30th anniversary Mario amiibo.
The list of WiiU games already has my wallet weeping, but we all know it's 110% worth the debt:
August 27th: Runbow - you can find it on the eShop and for the first month after it launches, if you downloaded the Nintendo@Home demo, you will receive up to 15% off the regular price of $15.
August 30th: Disney Infinity 3.0 Edition - $65
September 20th: Skylanders SuperChargers - the starter pack will have Donkey Kong and Bowser in them, which is the first time we can see Nintendo's classic characters in a Skylanders game - $75
September 27th: LEGO Dimensions will have their launch pack priced at $100 and you can buy Level, Team and Fun packs for $30, $25, and $15 respectively.
October 16th: Yoshi's Woolly World standalone game - $50, YWW with Yarn Yoshi Amiibo - $60, individual pink or light blue Yarn Yoshi Amiibo - $17, a combo pack of New Super Mario Bros. U and New Super Luigi U - $60.
October 20th: Guitar Hero Live - $100, Just Dance 2016 - $50
October 22nd: Fatal Frame: Maiden of Black Water (will only be sold on the eShop) - $50
October 2015: Shovel Knight doesn't have a solid date but is just simply set for October to retail stores - $25
November 20th: Star Fox Zero - $60
December 4th: Xenoblade Chronicles X - $60
December 11th: Devil's Third - $60
Then there's a batch of amiibos and a couple games that don't have designated dates, but are set for Holiday 2015: Animal Crossing Amiibo Festival (including amiibos for Isabelle, Digby, K.K., Cyrus, Mabel, Lottie and Tom Nook), Mario Tennis: Ultra Smash.
On the handheld side of things, there are a few new titles that will be coming out for the Nintendo 3DS:
September 20th: Skylanders SuperChargers Racing - $65. While Bowser and Donkey Kong will be featured in the WiiU version of this game, you only get Bowser and his Clown Cruiser vehicle on the 3DS.
September 25th: Animal Crossing: Happy Home Designer - $40, including one amiibo card. In conjunction with the game, 100 Animal Crossing amiibo cards will be released that are compatible with the game. If you buy this on the eShop, you will not recieve an amiibo card, but will instead get an exclusive Home Menu theme. The amiibo cards come in packs of 6, and retail at $6. If you want to make the most of your money, there is a bundle releasing the same day with the game, an amiibo card along with the Nintendo 3DS NFC Reader/Writer, costing you $50. If you opt out of the bundle but want the NFC Reader/Writer later, you can purchase it for $20.
October 9th: Chibi-Robo! Zip Lash will be $30 alone, but also comes in a bundle with the game and a Chibi-Robo amiibo that will be $40
October 23rd: The Legend of Zelda: Tri-Force Heroes - $40
October 2015: Shovel Knight - $25
November 6th: YO-KAI WATCH - $40
November 20th: Pokemon Super Mystery Dungeon - $40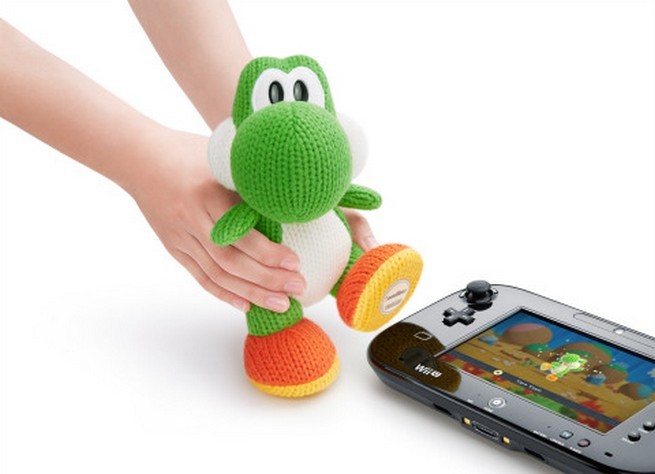 Courtesy of ComicBook
Last but not least, a whole new batch of amiibos are coming out, most notably the Yoshi Woolly amiibo that will make your heart burst with joy:
November 1st: Super Smash Bros.  3-pack of new Mii fighters - $35
November 13th: Super Smash Bros. Mewtwo amiibo - $13
November 15th: Yoshi's Woolly World Mega Yarn Yoshi - $40. When you activate this exceedingly adorable amiibo, it brings out Double Yoshi in the game, and will save the player's favorite Yoshi pattern to that particular amiibo.
November 20th: Super Smash Bros. The Falco amiibo - $13