I decided to participate in the democratic process by attending my very first Nevada caucus. Don't get me wrong, I voted in the last two elections but until Saturday, I was a caucus virgin. A caucus is when members of a political party get together and cast their vote for the candidate they want to have the nomination to run for president representing that party. As a registered democrat, I went to the caucus to choose between Hillary Clinton and Bernie Sanders and the experience was...pretty much what I expected.
As a voter, I had to caucus in my own precinct, so I threw  on my favorite Harley Quinn t-shirt and Batman Converse shoes and headed to a nearby middle school where several local precincts were holding votes. When I arrived, the lines were already long but the process was fairly easy. There was an express check-in for people who were already pre-registered to caucus, standard check-in for registered democrats who weren't pre-registered to caucus and then a third line for people to register to vote or switch parties.
As I took my place in the longest line (registered democrat, not pre-registered to caucus), the first thing I noticed was the average age of the caucus-goers; most of the crowd seemed to be well over fifty. I wasn't sure if this was because younger voters didn't understand the significance of a caucus or if they simply chose not to participate. Either way, I was surrounded by my fellow democrats who all seemed genuinely excited to be taking part in the process. Okay, so maybe not "excited," perhaps "mildly enthused" would be a better term... well, at least the weather was nice, as many of my line-buddies pointed out to me.
The second thing I noticed was that Hillary Clinton had no campaign representation at the event. Zero. Several people representing the Bernie Sanders campaign were mingling among voters, passing out buttons and t-shirts and chatting happily. But I didn't see a single person working to promote Hillary and people were asking! They wanted buttons, too!
At the front of the line, I gave my name and verified my address in exchange for a card that gave me a choice of candidates: Bernie Sanders, Hillary Clinton or Undecided. One side of the card was blue and read "First Alignment" and the other side was red and said "Second Alignment." Apparently, they were prepared if someone convinced you to change your mind!
Once through the line, Bernie button proudly displayed next to Harley Quinn, I was ushered into a classroom meant for forty students with ninety-four other members of my district....and there was no air conditioning. I took a seat next to a lovely elderly woman, an elementary school principal who saw my Bernie button and immediately began the absolute sweetest attempt at trying to persuade me to change sides. She made her case for Hillary, frequently pointing out what a "good man" Bernie Sanders seemed to be and how she knew he had great intentions but she felt I needed to be more pragmatic with my vote. She believed that his ideas simply wouldn't make it past congress and we needed someone in the White House who could make things happen. The exchange was an important reminder of how the election process should be; a respectful discourse of ideas and opinions.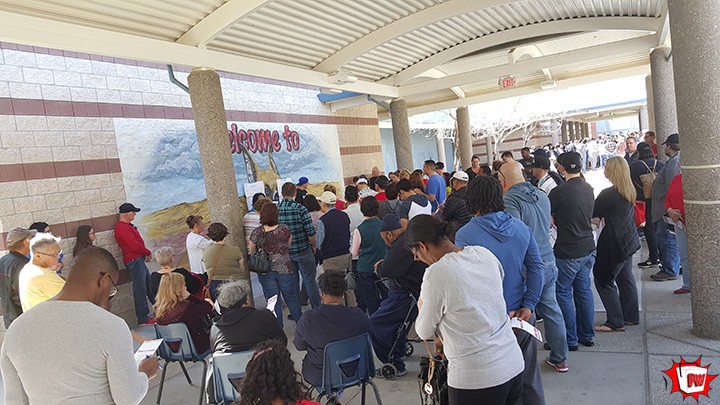 PopWrapped/Michelle Dawson
We waited in that sweltering room for a good hour before someone in charge finally decided to move us all outside where we could breathe. The proceedings officially got under way with the appointment of our precinct representative (a woman volunteering at the caucus who'd been trained by the Democratic party to run the thing and the only one qualified). She began by reading letters from Senator Harry Reid, Hillary Clinton and Bernie Sanders. The letters from Reid and Clinton were read without any sort of reaction at all from the crowd; it probably would have been more exciting had she been reading from the Popeyes drive-thru menu. But once she was finished reading the Sanders letter, cheers erupted from his supporters along with cries of "Feel the Bern!" from one particularly excited guy in a Star Wars t-shirt.
Once that was over, we all lined up so that our representative could get an accurate head-count and then we divided into three separate lines; one for Bernie, one for Hillary and one Undecided. The crowd immediately jostled to their lines and no one was left undecided. Most of the voters over 40 seemed to go to Hillary's side while the younger voters went to Bernie's. While we had a few people with gray hair, it seemed to be a pretty clear divide and I wondered how many people were supporting Hillary because it was the "pragmatic" thing to do. Congress had already proven they were willing to shut down government and throw their little tantrums, perhaps the cute little elementary school principal was right? Maybe Bernie was the riskier vote, but I had to vote my conscience and my conscience was telling me to stand behind Bernie.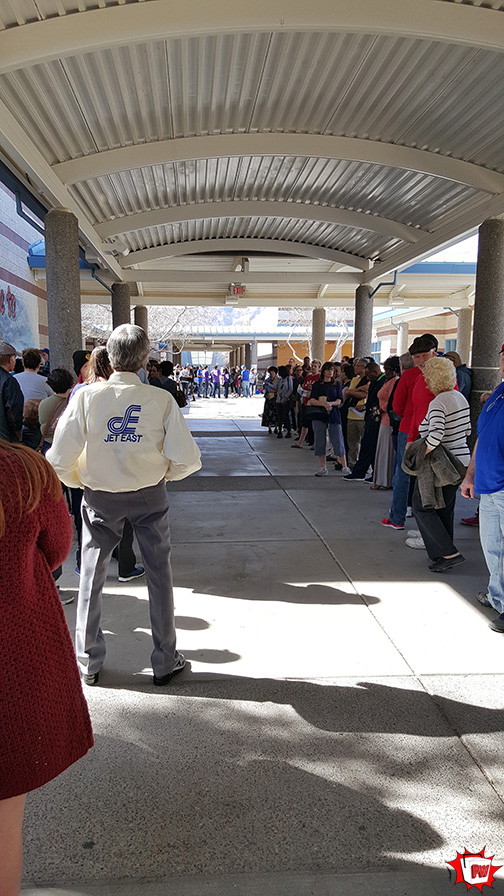 PopWrapped/Michelle Dawson
Since no one decided to change their minds and use the handy-dandy "Second Alignment" side of the card, the final votes were counted. Sadly, Bernie lost in my precinct. Votes for Bernie were 39 and for Hillary, 55. After some caucus math, Bernie earned 5 delegates and Hillary earned 7 from my precinct. The delegates are members of the attending party caucus who volunteer or are elected to represent the party and their candidates at official conventions. And somehow I ended up being one of five alternate delegates for my precinct. So, if for any reason one of the main delegates can't attend a convention, I could end up going and there could be a lot more articles like this in my future.
Interestingly, the Hillary side seemed to have a difficult time getting people to volunteer as delegates and alternates to attend the functions. So, Hillary may have won the precinct, but Bernie had a lot more passion on his side. 
The final results of the Nevada caucus show Hillary winning at 52% and Bernie at 48%. Results that close really prove just how important it is to participate if you feel passionately about a candidate. And if Bernie is going to close that gap, he's going to need to translate that passion into votes.