Jonathan Frahm
Staff Writer
@JNoodles_
Some of you may have fond memories of the early 2000's. Memories involving Jack Black playing some washed-up rock "star" named Dewey Finn, teaching some off-kilter kids how to rock hard like he... kinda... did, and somehow pulling it all off successfully. If you did, you had an awesome time in 2003, because 
School of Rock
was a modern classic in its own right! Did you ever think that you'd be seeing it all happen again, and on your TV screen across a 13-episode debut season, at that? Well, whether you're ready or not, now it's going to be a reality as Nickelodeon
announced this Monday
(August 4) that a 
School of Rock
TV series is on its way!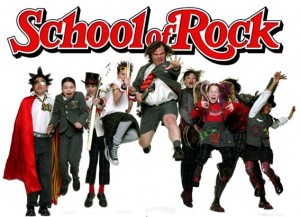 Courtesy of IMDB
Production for the new television series is
set to begin
this fall with hopes for a debut in the spring of 2015. The staff has already all come together, too, with Jim and Steve Armogida acting as showrunners with original 
School of Rock
 director Richard Linklater and producer Scott Rudin acting as additional executive producers. The real question remaining here is whether or not Jack Black himself will be signing on to reprise his role as Dewey, who the show reportedly is centered around. Here's to hoping, because just like Robert Downey, Jr. "owns" the role of Iron Man, or Benedict Cumberbatch that of Sherlock, Jack is 
the
Dewey Finn.
Keep Up With PopWrapped On The Web!