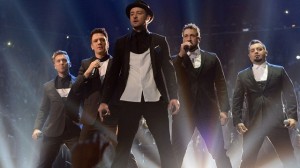 Gloria Ayee
Guest Contributor
@NSYNC
) followed eleven lucky fans after sending out this tweet: "Happy Friday! Show your support and you just may get a follow! RT #FF @jtimberlake @IamCKirkpatrick @realjoeyfatone @LanceBass @JCChasez." What ensued can best be described as a "twitter frenzy," as fans retweeted that message (over 680 times), and sent messages about their love and support for the group. *NSYNC, the superstar boy band that was formed in Orlando, Florida in 1995, sold over 50 million albums over the course of its existence. The group announced a "temporary hiatus" in 2002, and while there was no farewell tour, press release, or announcement of the group disbanding, *NSYNC's official website was shut down in 2006. These days *NSYNC is using Twitter to stay connected with its fans who have been there from the very beginning, and is also attracting new fans every day! Fans have continued to support the group on Twitter and social media, and have expressed gratitude for these types of interactions. I reached out to a few *NSYNC fans and asked them to share some memories of the group and explain why they remain dedicated to the group and supportive of the individual pursuits of Justin Timberlake, JC Chasez, Joey Fatone, Chris Kirkpatrick, and Lance Bass.
What is your first memory of *NSYNC? What is the first song you remember hearing?
Hearing "I Want You Back" right after high school. The buzz surrounding the group was huge and the fact that two members were from
MMC
[
The All-New Mickey Mouse Club
] was big. *NSYNC was also playing Knott's Berry Farm here in SoCal and that was a big deal! – J.W., Los Angeles, California I discovered *NSYNC a little late, after the
No Strings Attached
album was released. My first *NSYNC memory is watching the premiere of "Bye Bye Bye" on MTV. I was hooked before the second verse! – S.B., Marietta, Georgia My first memory of *NSYNC was prior to [the group] having any popularity. I can't remember the name of the place where I saw them preforming; it was in Florida. But I recognized JC and Justin (from
MMC
), and the guys were singing "Lion Sleeps Tonight." The first original *NSYNC song I remember hearing was "I Want You Back." – L.D., Rye, New York Oh wow! I grew up a Backstreet Boys fan in the era of BSB vs. *NSYNC wars. There was no such thing as liking both. It was either one or the other. So when watching TRL, it was a good day when BSB was higher on the chart than *NSYNC. The first song I remember hearing... it had to be "I Want You Back." – R.G., Havelock, North Carolina My first memory of the group was when I heard their song "I Want You Back" on the radio. My sister told me who they were. We were headed to my cousin's engagement party. – M.K., Chicago, Illinois
How did you feel about the *NSYNC reunion at the 2013 VMAs?
Amazing!!! I wasn't sure it would actually happen, especially since Justin kept singing and singing, but when the guys came up out of the stage it was awesome! To see them perform again after all these years... I still get excited thinking about it! My only wish? That is was longer. It was definitely too short. – R.G., Havelock, North Carolina I was so excited. That minute and a half brought me back to my college days when I first heard them. – M.K., Chicago, Illinois Excitement!! I didn't think something like that was possible due to Justin Timberlake's success, but the fact that it did happen meant anything is possible! – J.W., Los Angeles, California There are no words to describe how I (or most) felt about this (too brief) reunion. Being fortunate enough to be at the VMAs and witness [the performance] live was the greatest feeling a fan could have! These guys just have an essence about them that people feed off of. I have gone to many *NSYNC concerts and I will say that their entertainment factor is above and beyond most other groups. Although the reunion was brief, you can see these guys still have what it takes to entertain. That arena was already up on their feet because of Justin's amazing performance, but when they came up from under the stage the audience went over the top crazy! The arena was literally shaken [sic] from people jumping with excitement and adrenaline. – L.D., Rye, New York Well, it was too short! But I understand why. It was Justin's night. But I feel (and hope) that the 2013 reunion is just the start of something new for *NSYNC. The guys looked and sounded amazing, and the reaction from everyone showed they are still loved… and deservingly [sic] so! But I have to tell you, I was beyond excited! I fangirled right along with my then 11 year old [sic] daughter. – S.B., Marietta, Georgia
What are your top three favorite *NSYNC songs?
Just three?! I think [my favorite songs] change with my mood, but my all-time favorite three are: "That Girl Will Never Be Mine" (unreleased), "I'll Never Stop" and "Bye Bye Bye" (of course!) – S.B., Marietta, Georgia "This I Promise You" (most favorite!!), "No Strings Attached," and "Girlfriend" – R.G., Havelock, North Carolina "This I Promise You," "I Thought She Knew," and "I Just Wanna Be With You" – J.W., Los Angeles, California "(God Must Have Spent) A Little More Time on You," "Selfish," and "This I Promise You" – M.K., Chicago, Illinois "No Strings Attached," "Sailing," and "Selfish" – L.D., Rye, New York
Do you consider yourself to be an *NSYNC super fan? If you do, explain why.
It's hard to actually define what a "fan" is. However, I consider myself a superfan because no matter what these guys do, whether individually or collectively as a group, I believe in them and support them all. I enjoy seeing what each of the guys is working on... From Justin still putting out great music and mind blowing tours; JC producing, writing and introducing the world to [the supergroup] Girl Radical; Joey on TV doing numerous different shows and projects; Lance on the radio (
Dirty Pop Live
), and opening people's minds and showing today's youth that they need to be proud of who they are; and Chris being a newlywed and working with new artists. There is nothing that these guys can't do! – L.D., Rye, New York [I try to support] the guys in whatever they are passionate about when it comes to their careers. – M.K., Chicago, Illinois The feeling I get when I hear anything about *NSYNC just makes me so giddy. It doesn't matter how many years go, by I will always be a fan! - J.W., Los Angeles, California [I consider myself to be a superfan] because 14/15 years later I'm still buying *NSYNC memorabilia wherever I can find it. My usual commute music, to and from work, is *NSYNC or JC Chasez's solo music. My six-year-old knows *NSYNC songs, and who the guys are. I'm as much a fan today (if not more so now) as I 14/15 years ago. – S.B., Marietta, Georgia Honestly? I don't consider myself an *NSYNC superfan. There are way more fans out there that have been into *NSYNC from the very beginning. Fans who sat in front of the TRL wishing/hoping *NSYNC beat out BSB on TRL, who bought every piece of merchandise, magazine cover with *NSYNC on it and been to every concert. That's not me. [But] in the last couple of years I have gotten back into pop music and my love of boy bands, after listening to strictly country for years. It was then that I realized how dumb I was to only like one group over the other. When you break it all down, Backstreet Boys and *NSYNC are two very different bands, with two different sounds. I could like them both for who they are, the music they sing, and what they have to give. It's definitely not the norm. I'm okay with that. I'm proud to say that I like both Backstreet Boys and *NSYNC. – R.G., Havelock, North Carolina
Do you follow the *NSYNC twitter account and/or individual *NSYNCER accounts? Briefly describe your experience using social media to interact with the group.
I follow all the guys and have done so since I joined Twitter. The minute I found out about their *NSYNC group account, I was a follower. I have had a retweet from Lance and Joey. I've had 2 replies from *NSYNC on twitter and a retweet from them. Same with JC... In fact JC was the first to reply to me. Both times he's replied it was actually him jumping into conversations I was having with friends (and also *NSYNC fans), and both of his replies were funny. He's got a real charm about him! – S.B., Marietta, Georgia Yes I do. I think it's awesome that they do engage with fans! The fact they did that "follow Friday" [on June 13, 2014], and the hype it started, shows the love is still there. – J.W., Los Angeles, California I follow the group account and the individual accounts. I think twitter is a great way to interact with the guys and talk to them. – M.K., Chicago, Illinois I follow the *NSYNC account, JC, Lance, Joey and Chris. I love how social media has made them all more accessible! (Fans of One Direction and Justin Bieber don't know how hard we had it trying to get news. It was all done in AOL chat rooms and fan made sites.) The interaction has been great! Every tweet I send, I think even though I might not get a reply, there is a good chance [that the tweets] are read. Twitter has given us something we didn't have back in the group's [heyday]. We can reach out and say hello or comment on a tweet they sent out. We couldn't do that before. By far, I interact most with Lance because I listen to his radio show, Dirty Pop Live, daily and he seems to be the one who has taken to social media the most. It's great that the guys are all on here sharing as much of their lives with us as they choose. – R.G., Havelock, North Carolina Yes, I follow each member individually as well as the @NSYNC account. I feel like it's the best way to keep up with them. My experience with interacting with *NSYNC via social media has been amazing. Even though they keep the fans guessing who is behind the group account, I'm just very appreciative that they (both individual and group accounts) are considerate and responsive to their fans/followers. My one request would be to get JC on social media more! Thank you all for sharing your memories and love for *NSYNC with us. Like you, we are desperately hoping for a more substantial *NSYNC reunion in the future!
Keep Up With PopWrapped On The Web!