Nuclear Family, the sketch comedy YouTube channel from the SourceFed crew, released a new video today in honor of International Women's Day. The sketch titled "Your Favorite Movie Characters Gender Swapped" looks at how the characters would have been portrayed if women had been cast instead of men. The sketch is both hilarious and draws attention to issues faced by women in film and the gender in general.
What if Willy Wonka was a woman? Would interviewers ask her the same questions they would a similarly successful male businessman? This is a common issue that many men don't even realize their female counterparts face on a daily basis. When it comes to women in film, this issue has lead to the #AskHerMore movement by The Representation Project. The movement calls upon entertainment reporters to ask women more than just what they are wearing on the red carpet. As the Wonka portion of the Nuclear Family sketch points out, this isn't limited to actresses. Businesswomen and politicians often face sexist questions about how they balance work and looking after their kids.
The Star Wars gender swapped parody looks at the famous Mos Eisley Cantina scene and the treatment ladies face in bars. Hanna Solo is just going about her business when a bounty hunter, Greedo, gets a little too forward with her. She has no choice but to handle the rude alien herself.
The final scene in the sketch parodies Fight Club. This scene is clearly subversive of typical female stereotypes, showing women who are physically strong (as opposed to dainty) and women who are violent (often considered a masculine trait). It also provides commentary on a major issue faced by feminism, where women are pitted against one another. Women shouldn't have to put other women down to bring themselves up. It is okay to be supportive and let your fellow girls know they are beautiful.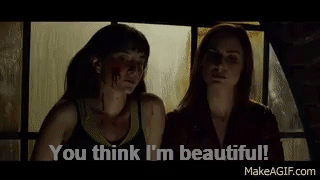 makeagif.com
Have a happy International Women's Day and if you want to learn about these issues and more, I suggest watching the documentary Miss Representation. Let us know in the comments which film would be better with a gender swapped cast. What was your favorite parody of the three Nuclear Family sketches?