Get ready to see more awesome things coming by in the stash on this season of Comic Book Men.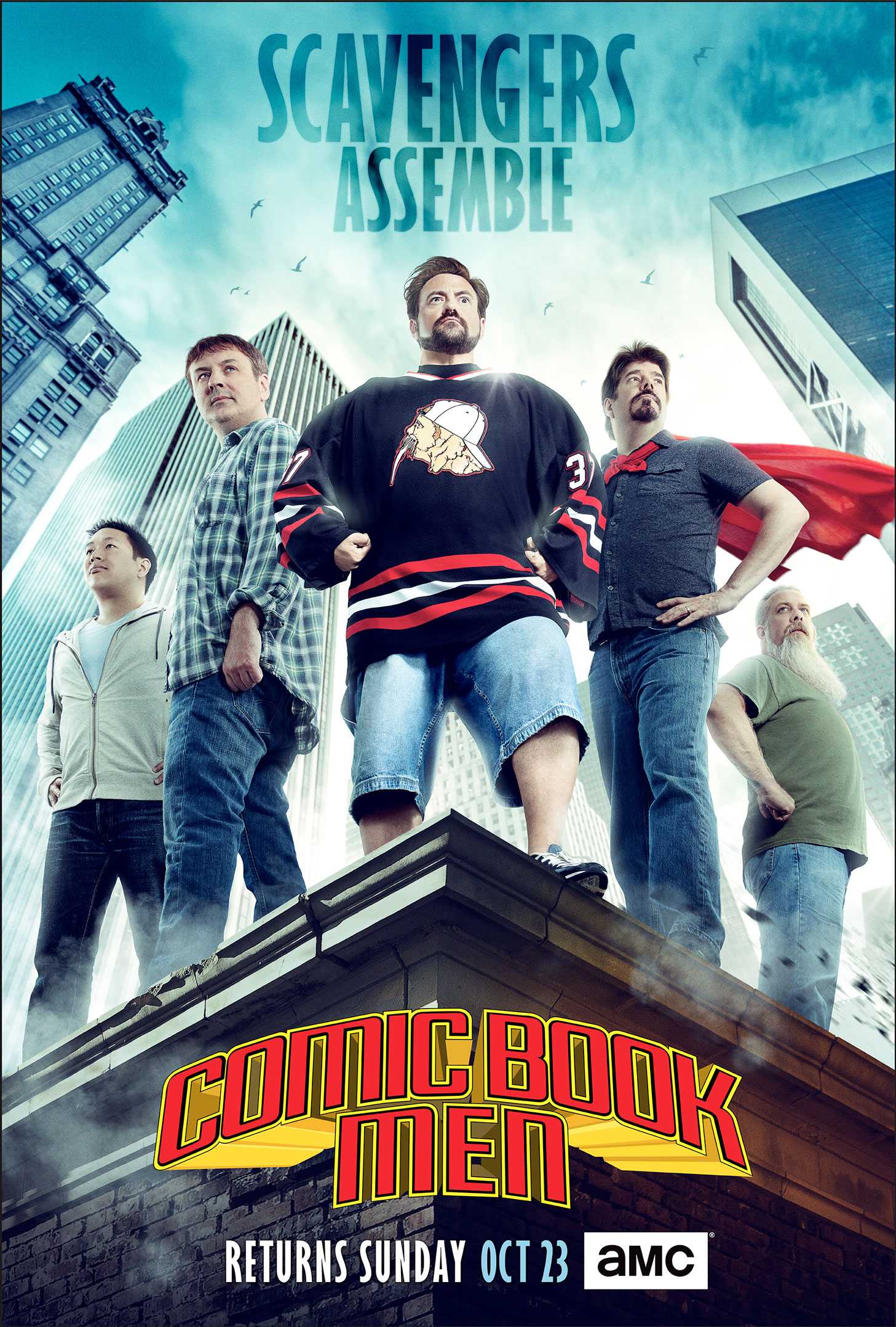 AMC
We got the chance to sit down with the cast of the show to figure out all about its upcoming sixth season.
The first episode will follow the guys as they end up in the presence of the holy grail of all comic books: Action Comics #1:
"It was amazing up until the time I sneezed on it," said Mike Zapcic. "That was accidental; I didn't mean to do it."
"It's pretty crazy. It's the comic that started it all," said Ming Chen. "Not only that, it's probably worth more money than I'll ever make in this lifetime."
"I heard there was a party in San Diego, and they had it behind bulletproof glass with the lasers, and there were armed guards around it," Ming continued.
Bryan Johnson revealed that there aren't many A-stories in the show this season:
"It seems people like to watch us sit around and talk, make fun of each other, discuss the items. So we sort of scaled back on the jokey stuff and just make fun of each other and talk about the shit that comes in," he said.
Walt Flanagan said that more guests will be coming the show including, Lynsey Wagner, Tom Cavanagh, Katrina Law, Marky Ramone.
"What I like it is that it's not much different from what we would be doing anyway. Except, with the stuff coming in, we wouldn't be sitting there talking to people," Bryan revealed.
Even though the show is about to start it's sixth season, the shop itself has been around since 1987, which comes with big changes around the shop over the years.
"I'm there everyday, so it's not like [I see the changes] everyday. I see pictures from when I first started working there and I'm like, 'holy crap, it was amateur hour," said Mike.
"The store is still very much very old school," said Ming. "They built the counter for the show, and, if you watch the show, it's very well lit, which is rented for the production."
But, even though the show allows for a lot of interesting pieces that come into the shop to be showcased, sometimes the best stuff comes when the cameras aren't rolling.
"There's always times where I'll turn to Mike and be like, 'man, it would've been nice to get this piece on camera,' because it is so unique or it is so camera worthy. But those are far and few between though," said Walt.
The guys even have wish lists that they hope to fulfill during their time a the shop. On Bryan's list is a limited edition version of The Stand by Stephen King.
"We ask for stuff, but we don't always get it," he said.
For Kevin Smith, the coolest thing in his collection is a much more recent acquisition.
"The Harley Quinn bat that's no longer in my collection, I gave it to my kid. The Warner Brothers folks gave me one of four they made for the movie, and I got one of the actual screen-used bats that Harley Quinn had in Suicide Squad," he said.
Selling comic books aren't the only things that these guys are up to. Mike revealed that he might be working on a new project that will come to light soon. Kevin Smith also revealed that he is in the stages of pitching a TV-show sequel to Mallrats.
Comic Book Men is not the only show that Smith is a part of on AMC. He is also the host of Geeking Out, which just ended its first season.
"I didn't envision all this. I did not envision the past 22 years. All I envisioned was trying to make that Clerks movie, and that opened up all these fucking doors, and everything else has been house money ever since, and it's all been gravy," Smith said.
"Not only do I have a show with my fucking friends, that I get to watch my friends on TV. Now, there's a show where I just get to go look at shit that I would pay to go look at otherwise. Meet people that I've always wanted to meet, and they talk to me like I'm one of them. That's still feels fucking amazing," he continued.
Smith says the best part of doing both shows is not only showcasing the stuff that they constantly get to see or get, but also bringing families together and having them remember things from their own childhood while watching the show with their own kids.
"When you could show people the stuff that made up their childhood and showcase it in a way that no one is ever going to show this shit on TV. Like, I don't know it's kind of cool for folks. They take a trip with you, a sentimental journey if you will, and I never imagined that that's what the show would be but it kind of became a nostalgia fest."