Bradleigh-Ann Walker
Senior Content Editor @urbanbeautyxo
At this point, we all have whiplash from Justin Bieber and Selena Gomez's sort-of-sometimes-and-sometimes-not relationship. Well, there's been yet
another Jelena spotting
, and it's sparking more rumors that the teen stars may be back together; or at least close friends again. R&B singer Khalil, a long-time member of Bieber's entourage, posted an Instagram video early this morning (June 17) of a birthday celebration being held for Alfredo Flores, also a good friend of Bieber's. Although it's only a short clip, Bieber and Gomez can be seen in the background as the camera moves around: They aren't doing anything besides standing next to one another, but the fact that they're even together is cause for talk when it comes to these two. This comes not long after Bieber
posted a photo
to his own Instagram earlier this month, and then deleted it not long after. However, in the age of screenshotting, it's still all over the internet. The 21-year-old "Slow Down" singer was holding Bieber's head in her arms and looking straight at the camera above the caption,
Our love is unconditional
: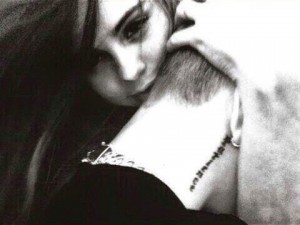 Courtesy of Instagram
I'm holding out hope that they really are still together, and that she'll help the "Confident" singer get back onto the straight-and-narrow, especially since his recent
racist video controversy
. Stay tuned, Jelena lovers.
Keep Up With PopWrapped On The Web!